I added a bird photography subject to my blog, didn't I? And I haven't followed through, have I? So I guess it is time to do something about it.
Last Saturday I drove towards Brisbane Airport to see what was about at the Kedron Brook Wetlands. This area lies between the Gateway Arterial Road and Brisbane Airport, near the bay side suburb of Nudgee. The most accessible area is near the highway. You can easily walk around the area (about a 4 kilometre walk) using a combination of well graded gravel paths and part of the concrete bikeway that runs all the way to Nudgee Beach. But watch out for speeding cyclists. It can be busy, especially at weekends.
Here are my captures for the day
The photo at the top of the page is a panorama of sleeping Pelicans. They were out in the middle of the waterhole, perched in an area where there were Pelicans roosted last time that I was there. The other birds residents that morning were Black-winged Stilts. They were feeding individually rather than in a group, some in deep water, some in shallow water and one going for a walk in the long grass.
Black-winged Stilts, also known as Pied Stilts, are a common coastal birds but are also found some distance inland in swampy areas and on rivers and creeks. They do not as a rule inhabit dry areas. Although regarded as a water bird, their feet are only partially webbed. They wade rather than swim, not surprising considering the length of their legs.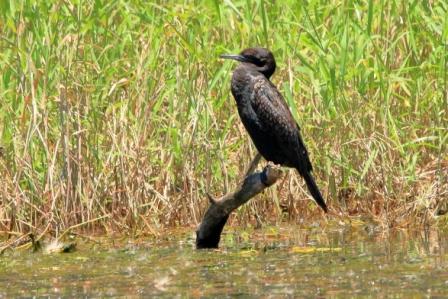 A short distance away, just north on the Nudgee Shell Service centre, I found a Little Black Cormorant sitting on a perch that is frequently used by one of its kind. The pond also held a number of Dusky Moorhens, including one having a scratch.