Day 1 – 27th March – Home to Bell – 234 km
The early part of our trip has changed. Our visit to the Mount Moffatt section of the Carnarvon Gorge National Park has been cancelled. There has been constant wet weather across the Central Highlands of Queensland to the extent that a number of features in the park have been closed. Because of this  a number of participants pulled out. We were still going in company with the organiser until his wife, who suffers from MS, had a relapse and was ordered by her specialist to rest. So we have called the Mount Moffatt visit off for the time being.
That left us all dressed up with nowhere to go! As we had an arrangement to meet friends at Mitchell we decided to fill in the time exploring the Warrego Highway from Dalby to Charleville.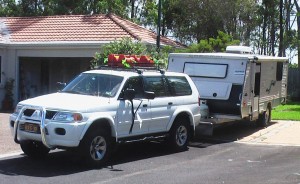 Ready for the road
We expected to get away from home by late morning but finally rolled out the gate at a few minutes past 1.00 pm. We took our normal route when heading west – north to Caboolture and then follow the Daguilar Highway to Yarraman where it meets the New England Highway. There we turn south and then south west to Dalby. This time we turned north before reaching Dalby and came to the small town of Bell on the Bunya Highway about 40 km north of Dalby.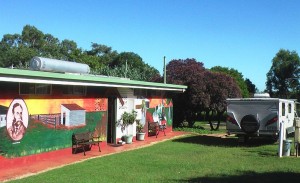 The amenities block was almost our en suite
Bell is a quiet country town on the Darling Downs. It contains some historic buildings which we will check tomorrow morning. We are resident in the Bell N Whistle Caravan Park. Except for a hand full of permanents we were the only guests. The northern migration of Victorians clearly has not started yet.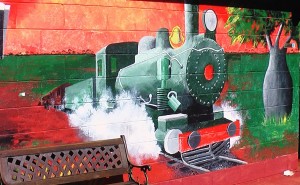 Perhaps this is the train from which the caravan park got its name
The rain has missed us so far. A storm passed ahead of us near Cooyar but we enjoyed a rainless evening, sitting out until after a very red sun disappeared over the distant, rather flat horizon.
Day 2 – 28th March – Bell to Roma – 307 km
It is normally an easy start when you have been on a drive through site. We did a small tour of Bell before leaving, to get some photos, but then encountered an unexpected problem. The still or image facility on my video camera that I use for most of my still shots that had worked at the caravan park refused duty when I attempted to take photos in the town. So for the time being I am using the camera on my phone or shooting short bursts of video from which I can cut still pictures.
Pictures taken (but later lost. My fault) we journeyed to Roma, refuelled both the car and ourselves and proceeded north west on the Warrego Highway; first stop Chinchilla for some last minute items before shops closed for Easter. Shopping completed we drove out of town for lunch at Chinchilla Weir, before moving on. I lost the pictures of that, too.
We have been hearing about the frantic mining activity on the Darling Downs, but as soon as we reached Dalby we could see the evidence. The highway to Roma is not much different to coastal highways in traffic density. Endless strings of vehicles including many very big trucks. The commercial centre of Chinchilla, which has a Woolworths supermarket, and a McDonalds, was almost like a city mall on Christmas Eve. We were glad to escape back to the relative calm of the busy highway.
We made a stop at Miles to see the well publicised and historic Pioneer Village. A bit pricey at $12 each to see it, but it has been very well done with authentic buildings brought in from their original locations. The buildings are well set up with all the things that I remember from my childhood. It is sobering to realise that your own early years actually reach back into "history".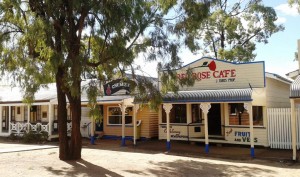 Village street scape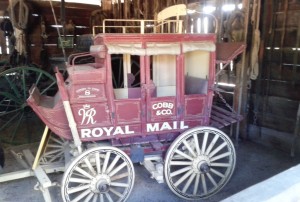 Half size model of Cobb & Co coach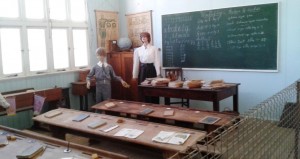 I started my education in a school like this one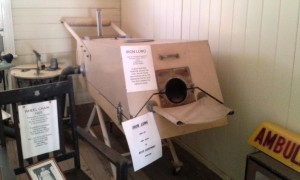 Have you ever heard the expression "Wouldn't work in an Iron Lung"?
We would have spent the night at Miles but the two caravan parks have beeen converted almost entirely to cabins to capitalise on accommodation requirements for the mining boom. They both looked like building sites, which is what they were. So we phoned ahead to Roma and booked a site. We found later that we had got one of the last available in town. There is a major festival held there over Easter which includes a race meeting and many other activities, so all accommodation is booked out.
Tomorrow we will move on to Mitchell. Roma was only a short stop for fuel on the original itinerary as it is from here that we were to turn north to Injune and then Mount Moffatt, so the activities here would not have impacted us.
Day 3 – 29th March – Roma to Mitchell – 88 km
The cool nights of the west make for good sleeping. We had early morning coffee under the awning. The sun was about to rise, a pale full moon hung in the western sky just above a newly launched hot air balloon that drifted along the horizon. Just part of the rewards of early rising! But I lost those pictures as well.
We have been to Roma before. There was a great deal of evidence of the oil and gas industries when we were here in 2008 but there is a lot more now. The streets of this substantial town are crowded with mining vehicles and equipment in transit to mine sites. Trucks, including road trains, rumble through at all hours.
We called in at the information centre at the Big Rig where there is an exhibition if the petroleum industry and where a light show telling the story of local oil recovery is held most nights. After collecting some information we joined the queue of motorists at the Woolworths service station who, like us, were claiming their discount dockets and then probably joined some of them on the road to Mitchell. We were part of an extended procession of utilities and 4WDs packed with camping equipment some towing trailers with bush bikes, others towing horse floats and the inevitable camper trailers and caravans.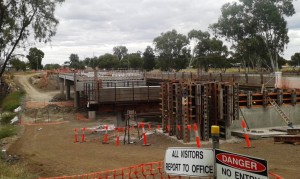 Mitchell is getting a new bridge across the Maranoa River
The Major Mitchell Caravan Park is on the banks of the Maranoa River opposite the town. Our site was on the river bank on grass. We had a very quiet afternoon, reading and doing odd bits and pieces. Mitchell is known for its mineral baths and we had intended to visit them but in deference to Easter, or to a day off, they were closed. Maybe next time!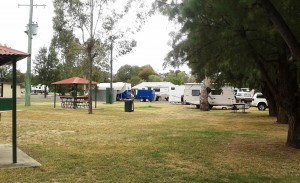 Settled in at the Major Mitchell Caravan Park
A relatively quiet evening at Mitchell!  At a van just across from us a "would be" country and western singer and friends entertained us for two hours or more. They packed up at about 8.45 pm so did not encroach on our slumbers.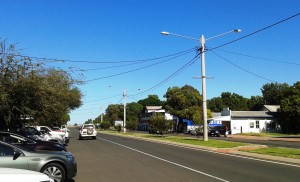 Looking west down MItchell's main street
Day 4 – 30th March – Mitchell to Charleville – 181 km
The 180 km to Charleville follows the Warrego Highway to the Warrego River which flows through the town and frequently floods it. The terrain is mostly open farm lands with some agriculture but mostly grazing lands.  In times past it was Merino sheep territory but is now mostly beef, although there is a thriving export goat meat industry in the area. Many of the road trains were returning empty from moving cattle to somewhere. There is plenty of green grass but an acute shortage of drinking water for cattle due to recent lack of rain.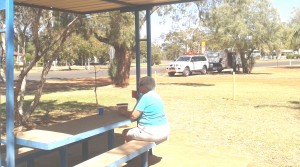 Morning tea at Morven
The road also passes through some bush land made up mainly of the kind of scrubby growth that is common in western Queensland.
We were met at Charleville by temperatures in the low 30s with high humidity. A storm is due through tonight or early tomorrow, so there probably will be no relief until then. Unfortunately the air conditioning in the van is not as efficient as the unit at home.