Day 5 – 21st April
Eidesvold to Taroom  248 km
Clear and sunny again, a temperature range of about 16 to 29. We bought fuel early just in case the service station closed early. A leisurely breakfast and we were off to Theodore via Cracow The road is excellent, but there are roadworks for 8 kilometers before reaching Cracow, resulting in a mix old tar and fairly good gravel. Cracow is an old mining town which is now not much more than a pub, a mine and a workers camp. The pub seems to provide all services as well as beer.
But there is still community spirit. The town won the County Spirit award in 2004 and in 2010 built a small building that contains honour rolls from two World wars and quite a lot of memorabilia of soldiers and wars. Beside the building they have fashioned a cenotaph. I expect there will be a march on 25th April with many of the participants both returned service people and returned residents.
Theodore was the next stop and like most towns in the area during this Easter season was almost totally closed. The town is located on the Dawson River and the Leichhardt Highway. As we approached the town we noticed telltale tufts of white fiber, a sure sign of cotton products. Before long we were driving through irrigated cotton plantations.
We were out of bread but had to settle for bread rolls from the cafe at the service station. So while we were there we had a hamburger for lunch and headed for Isla Gorge. But we didn't find it. There was a sign to Isla Gorge Lookout on a bend at the top of a hill with a narrow track running back at a sharp angle, but no sign of the normal National Park signage or the kind of turn you would expect from a major highway into a designated National Park. So we decided to press on. Perhaps next time.
So we came on to Taroom, a small agricultural town on the edge of the five kilometer wide Dawson River flood plains. At the bottom of the caravan park is the 11 meter flood mark.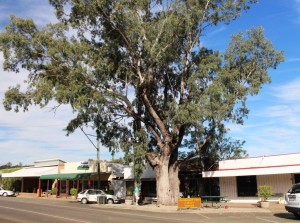 A sign advises that at full flood 5 years normal water flow can pass in two days. The water in this river ends up in the Fitzroy. No wonder Rockhampton floods so badly.
We are now seeing signs of gas exploration. The caravan park is now owned by an energy company and workers accommodation takes up much of the park. And the rates have gone up.
Day 6 – 22nd April
Around Taroom    208 km
"Next time" came much more quickly than we thought. This morning Ruth and I decided to stay at Taroom for another night so that we can see some of the things that we did not know about and go back to find Isla Gorge National Park.
The year before Taroom was founded, explorer Ludwig Leichhardt travelled through the area on his 1844 expedition. He blazed his initials and the date onto a number of trees along his route. One such tree stands in the main street of Taroom. Leichhardt crossed and named the Dawson River. Soon after, he camped beside what is now known as Lake Murphy. Today Lake Murphy was out first objective.
Seventeen kilometers back along the Leichhardt Highway and another 13 kilometres to the west, the lake is to be found in Lake Murphy Nature Reserve. The final 13 kilometres is good gravel and is on the road to the Expedition National Park, a worthwhile place to visit in its own right. Lake Murphy fills with water when the Robinson Creek overflows. It then becomes a water bird wonderland.
But Murphy's Law was in operation. There was neither water in or water birds at the lake. But we had morning tea in what is one of the best kept picnic and camping areas that we have seen. The facilities were opened in 1994 to commemorate the 150th anniversary of the Leichhardt expedition. After 20 years it is still in great condition.
An interesting feature of the forest that is part of this reserve is the under story of Livistona palms that grow beneath the taller eucalypts . The same natural arrangement can be seen by the highway just north of Taroom.
Isla Gorge is 45 kilometres further north from the turn to Lake Murphy. As we were not towing the van it did not take long to cover the distance. The park is the eastern extremity of the sandstone mountain ranges that cover a substantial area of inland central Queensland and includes the better known Carnarvon Gorge.  The picnic and camping areas are only 1.5 km from the highway and are situated at the end of a ridge that protrudes into a valley. The point is called Isla
Gorge Lookout and gives a great view of the surrounding eroded sandstone cliffs, deep ravines and more distant mountain ranges.
The facilities for day visitors and campers are of a good quality and provide great views. A couple of the camp sites are almost on the edge of the precipice. Parents would need to keep a close eye on their children when staying in this park.
On the drive back to Taroom we did a side trip to Glebe Weir. This is an irrigation dam but is also used for fishing and boating. A small camping area has been provided near the retaining wall where there are toilets, water and power for $7 per night. There was also 4 bars reception on my Telstra phone. I could come here and still be in touch with the world.
In this area the Dawson flows through broad river flats that are not much higher than the normal level of the river. When the river floods the flats act as reservoirs that retain water and so slow its passage. It helps to explain why Rockhampton flood peaks take so long to occur and why the floods are so often very severe.
Day 7 23rd April
Taroom to Dalby via Tara      333 km
Today was a longer drive than planned.
Out first stop was for morning tea at Wandoan. This town is a rural and gas production center, about 60 km south of Taroom and about half way to Miles. From the number of mining vehicles on the road I think the gas industry is winning over agriculture as a growth industry.
We moved on to Miles, did some grocery shopping and had lunch by the Warrego Highway. The endless flow of traffic has to be seen to be believed. If anyone has doubt about the vitality of the Queensland economy they should sit beside the highways that serve the resources and agricultural industry.
It is interesting to talk to the locals about the industry and its impact on their lives. Those who work in tourist related jobs are concerned that the industrialisation alienates tourists, particularly the conversion of caravan parks to workers camps. Tourists tend to drive past if they can't stay in the town. Then they don't visit the town's attractions but drive through to the next town. Some locals are worried about pollution and damage to the environment. But most benefit. Work is easier to find and the larger towns that host gas industry development and support facilities receive a very real economic boost.
As mentioned earlier, we saw evidence of the passage of Ludwig Leichhardt through the Miles area. As we sat by the highway having lunch, right in front of us was a sign advising that the creek, Dogwood Creek, had been crossed at that point and had been named by Leichhardt on his 31st birthday. He named the crossing point Dogwood Crossing.
I had heard, over a period of time, that the town of Tara, situated about 100 kilometres south of Miles, had been a beneficiary of the gas industry to the extent that what was a town down on its luck had received a boost. So we included it in our itinerary and planned to stay there overnight. But we couldn't find a decent caravan park so we kept on going to Dalby.
If Tara has benefited from the gas extraction industry it is not obvious in the buildings in the main street but the shops in the street do suggest that there is money being spent. Development is a bit more obvious in some of the larger centres where there are new buildings in the main streets. I'm sure that a visit to industrial areas of these towns would show solid development.
We commenced the day driving through rolling hills including crossing part of the Great Dividing Range between Wandoan and Miles. But once past Miles the terrain became absolutely flat. The wheat stubble fields looked like huge furry billiard tables reaching almost to the horizon. In more than one place we saw flood warning signs saying "Road subject to flooding for the next 20 kilometres".
There was evidence of recent rain through much of the area. There was not much barren ground and many of the roadside paddocks were stocked with cattle in good condition. When most of the animals are lying in the shade by lunch time there is plenty of feed about.
Day 8 24th April
Dalby to Tenterfield      327 km
We decided this morning to stick as much as possible to our original itinerary, which meant that we needed to be at Tenterfield tonight. When we stopped last night we found that we had driven off and left the step to get into the caravan where we had last used it; at our final afternoon roadside stop. So first order of business today, was to buy a replacement. That done, we headed out of town.
The first leg was to Cecil Plains, a small town about 40 km south of Dalby. I had no idea that so much cotton was grown near Dalby, but today we drove past hundreds of hectares of it; white flowers stretching almost as far as you can see and here and there harvesting equipment moving through the fields. White flowers mean harvest time. If you want to understand what broad acre farming means, come and take a look at this. Grain crops also are produced. In most cases wheat fields have not yet been ploughed but there are large areas of what we think is sorghum.
On arrival at Cecil Plains we discovered that the original Cecil Plains Station was where Ludwig Leichhardt first had the idea of an overland expedition to Port Essington,which was a port that had been established in Northern Territory prior to the establishment of Darwin. We also discovered that Cecil Plains claims all of the cotton grown in the area as its own as it is processed at a gin just out of the town.
Still travelling south, we crossed the Gore Highway at Millmerran and the Cunningham Highway at Inglewood. We continued on to Texas, on the NSW border, where we stopped for lunch.
Agriculture extends south of Cecil Plains but gradually the land gives over to grazing. There are several forest areas, particularly as Texas is approached. We drove past the relatively new Millmerran power station and under its multiple power lines.
Texas is, appropriately, a cattle town, but it also has a silver mine. We departed Texas to the east on the road to Stanthorpe but after 34 kilometres turned south into Glenlyon Dam Road, crossing into NSW at the mini town of Mingoola. Although the state border in this area follows a stream and the Bruxner Highway is near the border it is quite hilly so the last 50 kilometres was a slower than the earlier  part of the journey.
We are at a higher altitude at Tenterfield so will probably have a fairly cold night.