19th & 20th February 2020
The objective that day was to travel to the furthest point south on our trip and the furthest south ever, in a lifetime of travelling. To better the day's effort we will need to go to New Zealand, South America or to the Antarctic.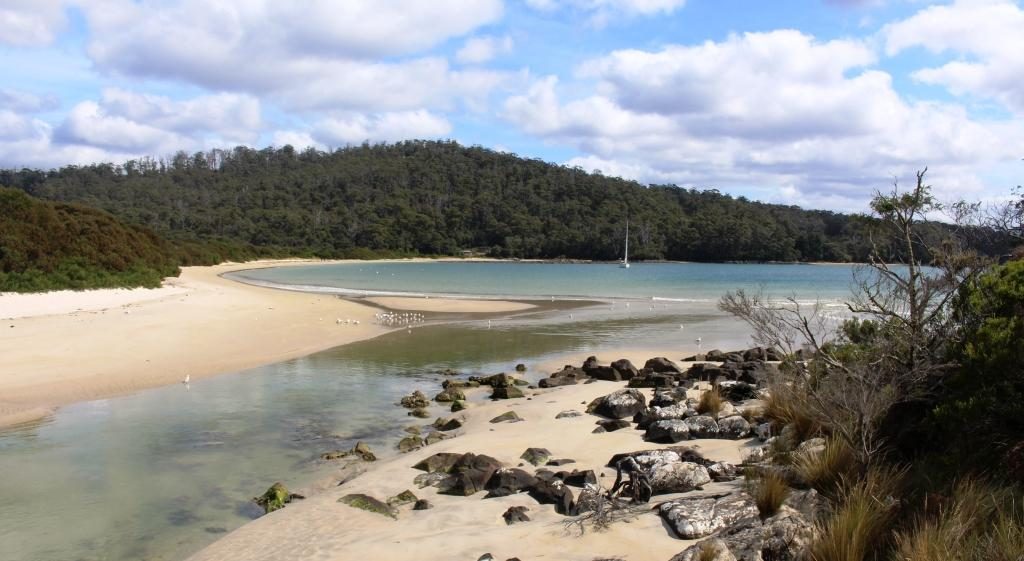 Go to Google Maps or I maps and enter Cockle Creek, Tasmania. That's where we were headed, as far south as we could drive in Tasmania. There is not much of Tasmania south of Cockle Creek, is there?
We had rain overnight, both while we were out to dinner and while we were sleeping. It was drizzling as we loaded the car and a brisk 13C. It dropped to 11C as we drove south, drove inland and climbed a bit, but the day improved and was sunny by lunch time. The mercury probably struggled to about 16C by mid afternoon, depressed by a cold breeze from the ocean.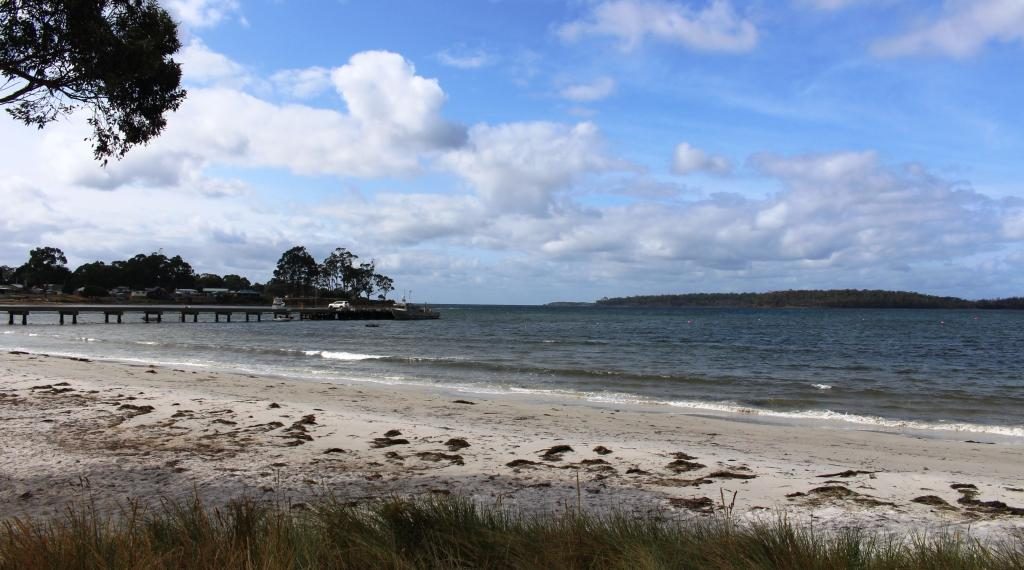 We left Sandy Bay and used the Southern Outlet to Kingston and then went inland on the Huon Highway. Once we reached Huonville and crossed the bridge, the Huon River was to our left and remained there until we turned inland again. We returned to the water at Southport.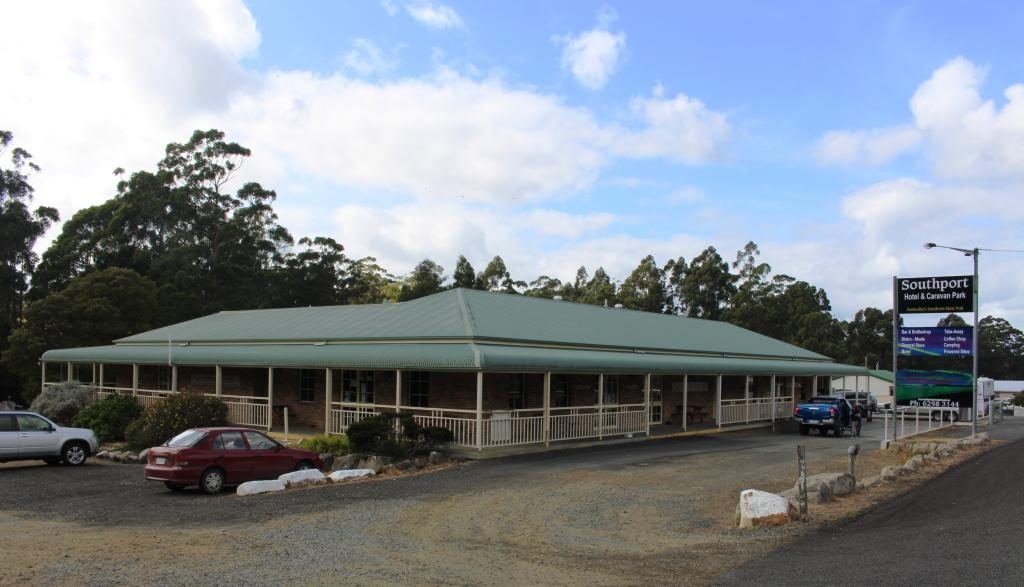 Southport is a short detour from the main road. It has only a tavern with a caravan park attached by way of commercial facilities. The houses in the area mostly occupy high ground with water views, so are probably mostly holiday homes. We sat in the warmth of the car for coffee, which I made on the top of a post. Picnic facilities are scarce in Tasmania.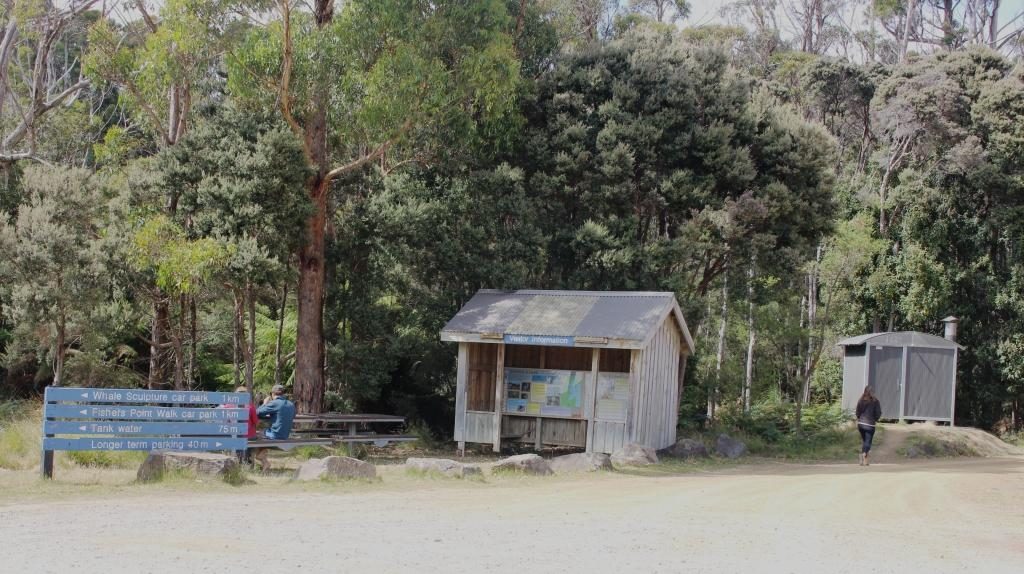 Southport to Cockle Creek is about 30 km, 20 km of which is fair quality gravel. The rest is sealed. There are a couple of small hamlets overlooking Recherché Bay and then a succession of free camping areas, each with at least one toilet. At the end of the road is a more substantial area with a volunteer caretaker and individual camping spaces. It is a very attractive location. Had we still been caravaning we probably would have stopped there for a day or so.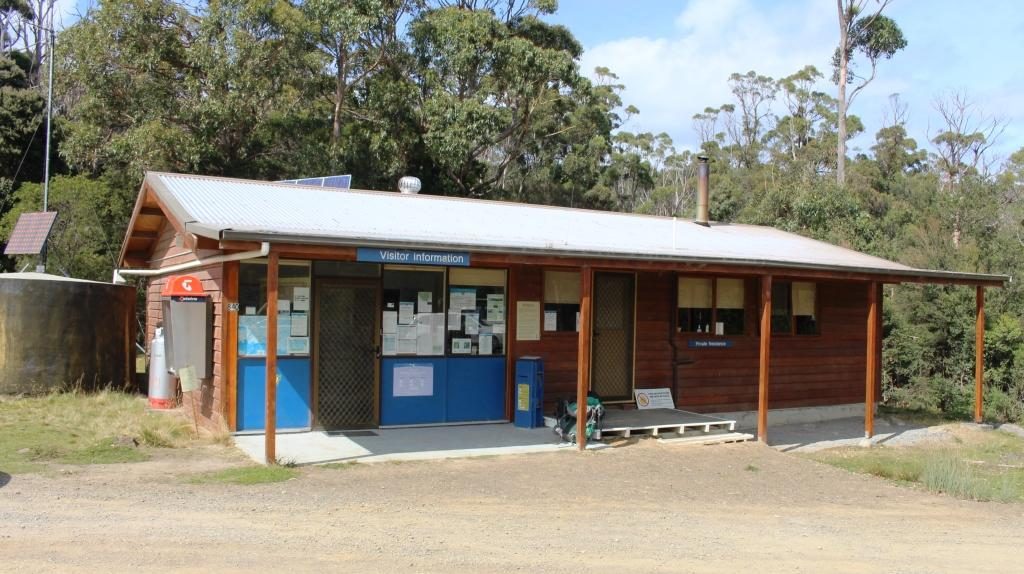 We drove as far as we reasonably could without a 4WD vehicle. In turning to find a spot to park so that we could look around, I forgot about the whale lookout and its bronze whale sculpture, produced by the sculpturer mentioned in our post of the Central Highlands. Bother! Now we will have to go back one day. We would be happy to do that, actually.
On the return journey, we paid more attention to the towns that we had passed through on our outward journey. Of these the most significant are Dover, Geeveston, Port Huon, Franklin and Huonville.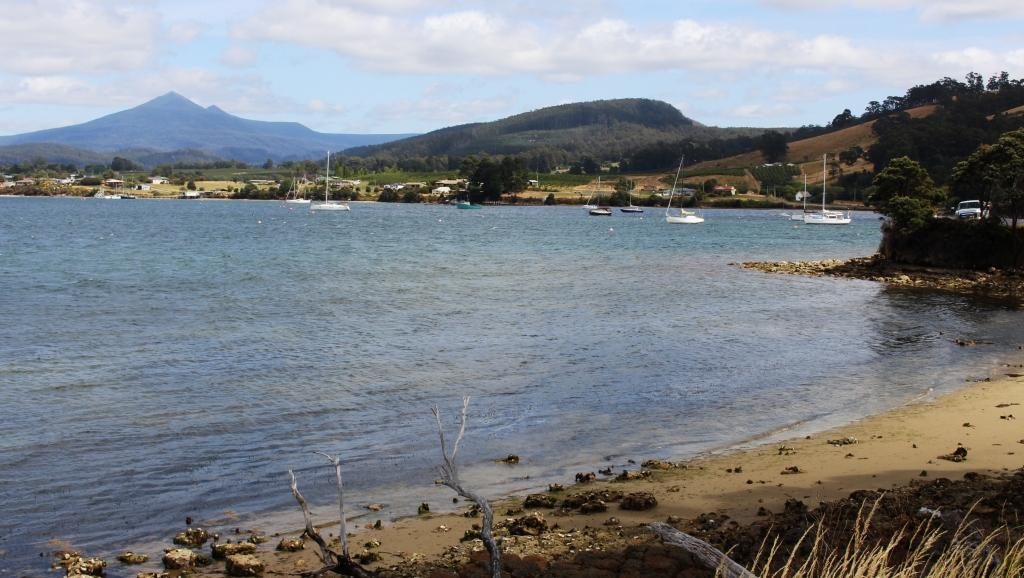 Dover is an oyster port. Geeveston calls itself the "Timber Town" and seemed to be a busy centre. We stopped there for lunch. There is a timber themed park not far away but it has been closed since it was damaged by bush fires last year. There are also national parks and caves in the area.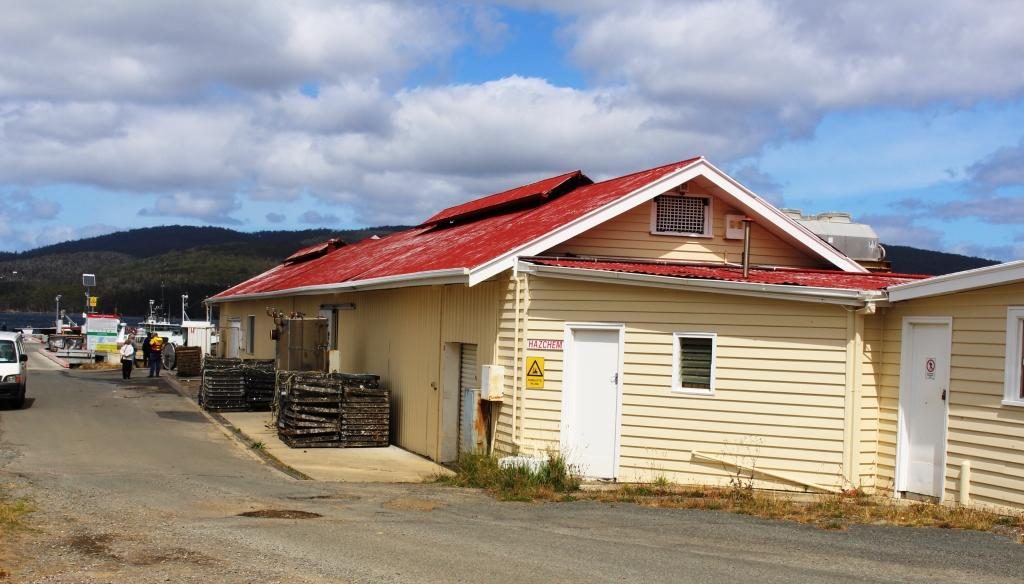 Port Huon has a substantial wharf which is now a service area for the numerous salmon and trout farms in the Huon estuary. A salmon industry support boat that we had seen in Hobart on Monday, was at the wharf as we passed.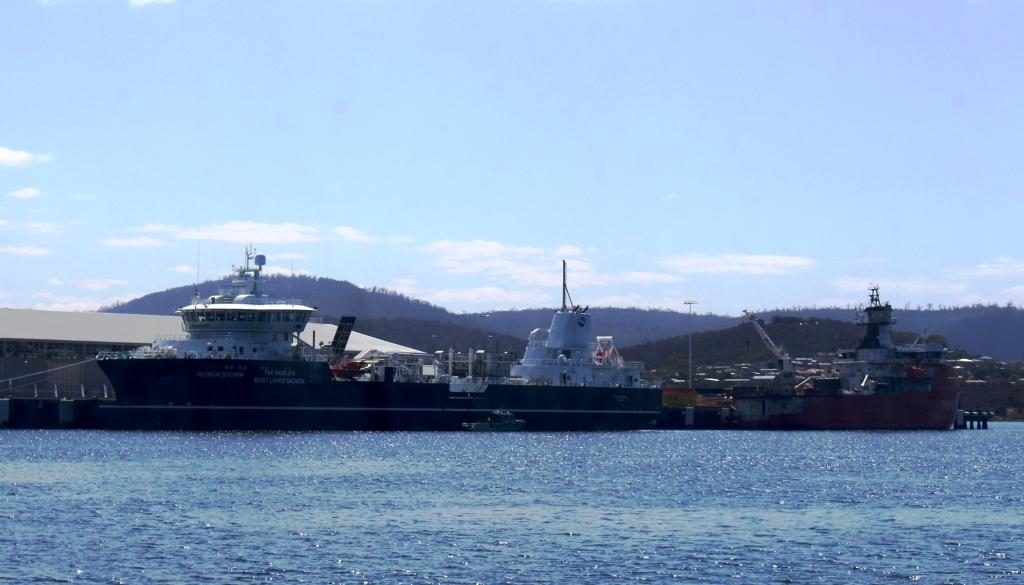 Franklin appears to have been the major river port in the days before road, when supplies came from Hobart by boat. The town is host to the Wooden Boat Information Centre. The Centre is just what its name suggests but also conducts a school of wooden boat building. Visitors can look through glass partitions to watch ship wrights in action.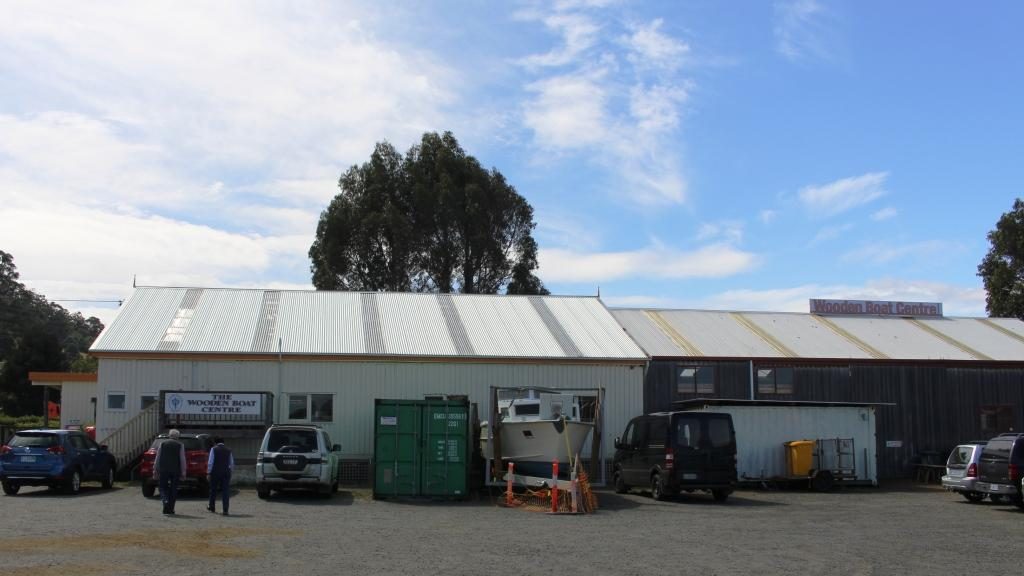 Tasmania conducts a wooden boat festival every other year, based at Franklin. This was an off year. If the festival had been on this year we would have tried to fit it into our itinerary.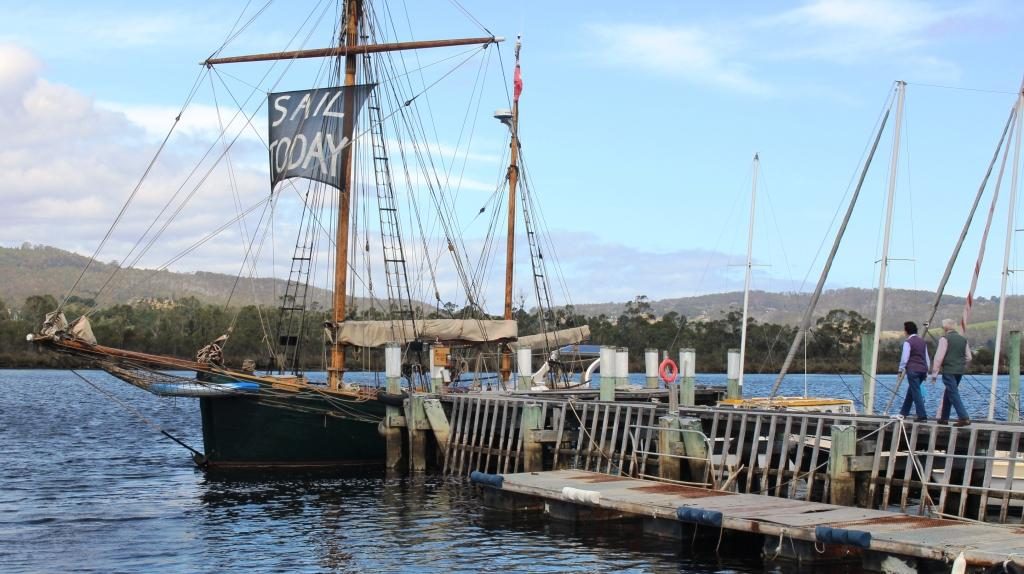 Huonville is the major town in the Huon Valley and is by far the largest. The Huon River is a broad stream where the road crosses it south of the town and broadens further into a substantial inlet, as it nears the sea.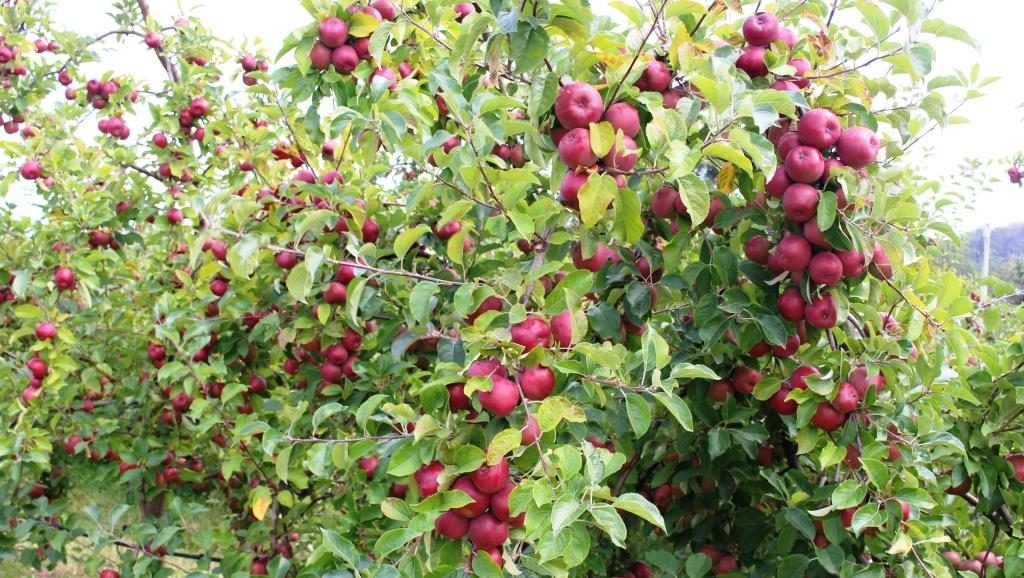 The Huon Valley is still a major fruit producing area although it produces nothing like the volumes export fruit of the days before Great Briton joined the European Economic Community. Apple production remains substantial. Pears and stone fruit, berries and of course grapes, are also grown in the area.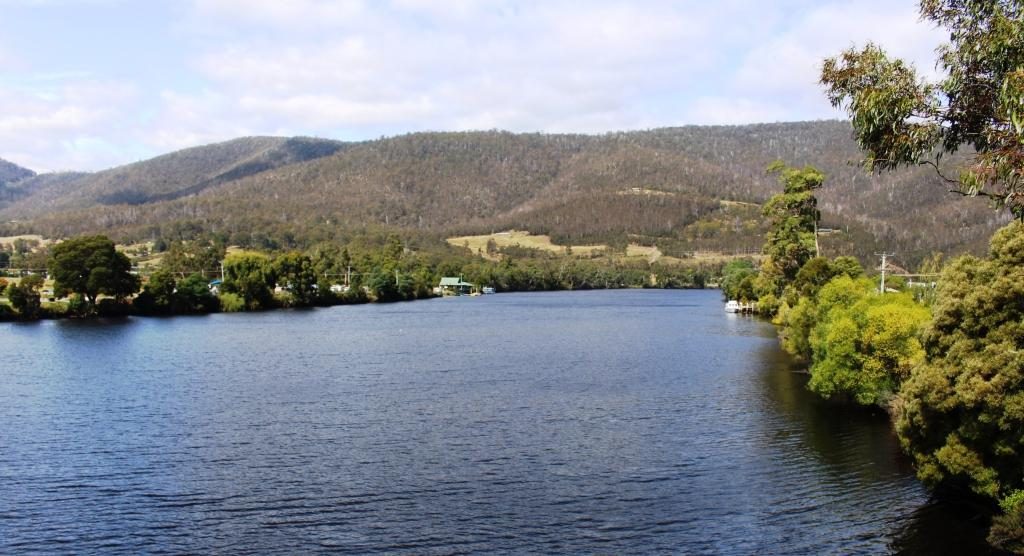 We turned off at Huonville to pass through Cygnet, itself a town of reasonable size, before cutting across to the small town of Snug where we planned to snuggling for the next two nights. The heater supplied in the cabin was most welcome.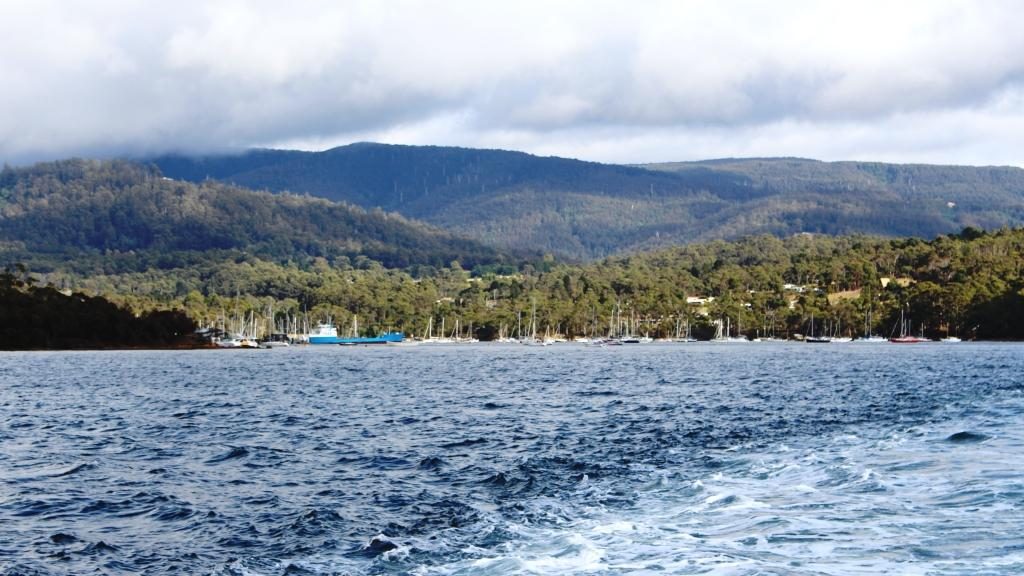 Snug is near Kettering, the small town from which the ferry sails to Bruny Island. Its proximity was why we stayed there. A drive of about 6 km brought us to Kettering and to a ramp facility designed for its purpose. A similar facility on North Bruny only has a snack bar in addition to the ramp.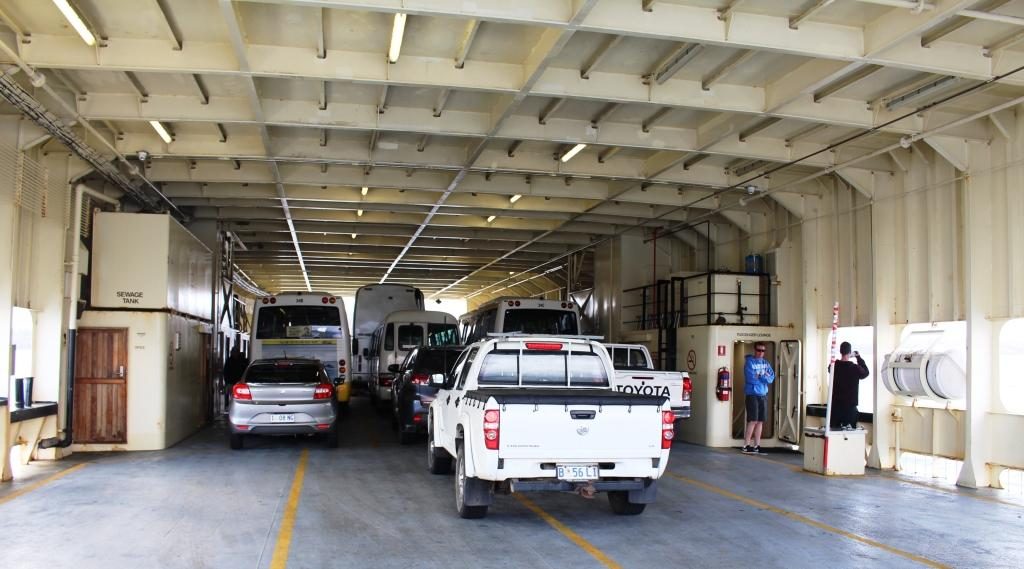 Bruny Island is a piece of rural southern Tasmania that remained detached from the rest, so needs a 15 minute ferry journey to get there. That costs $38 return unless you catch an early ferry. That will save you about $6.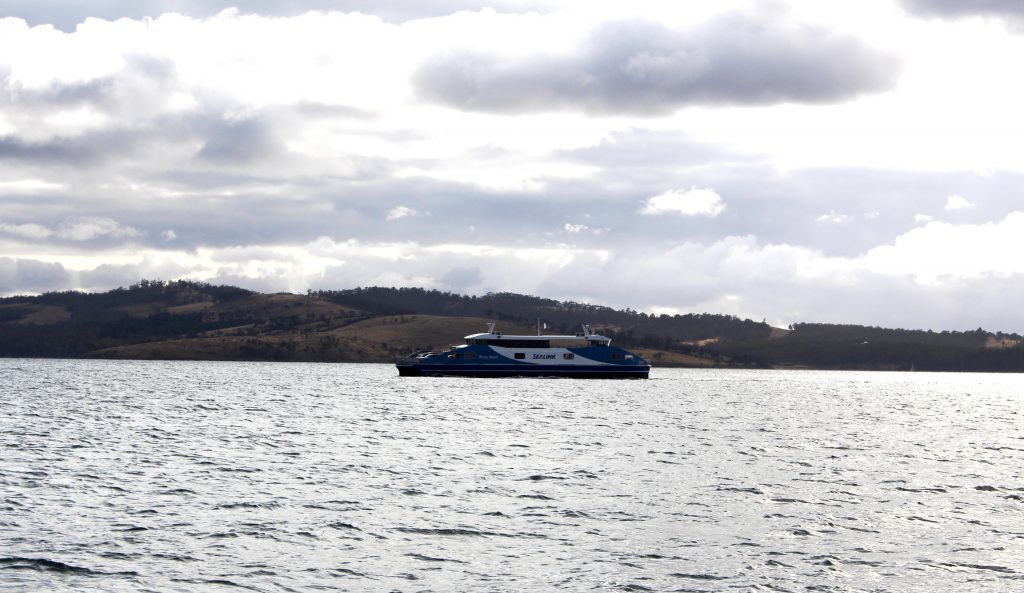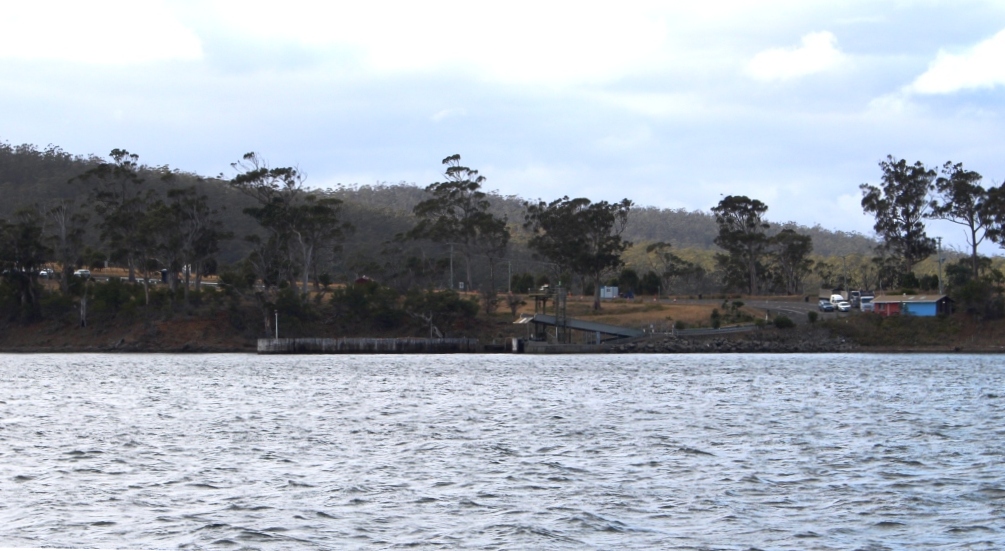 North and South Bruny Island are joined by a long narrow isthmus named The Neck. It is mostly composed of sand, with beaches on both sides and a prominent hill (probably a sand dune) at the northern end. Stairs and boardwalks lead to the top of the hill for views and to the beach. Views are 360 degrees and sweeping, particularly to the south . Toilet facilities are located here. Tourist busses stop for the view. A Penguin rookery is located on the ocean beach.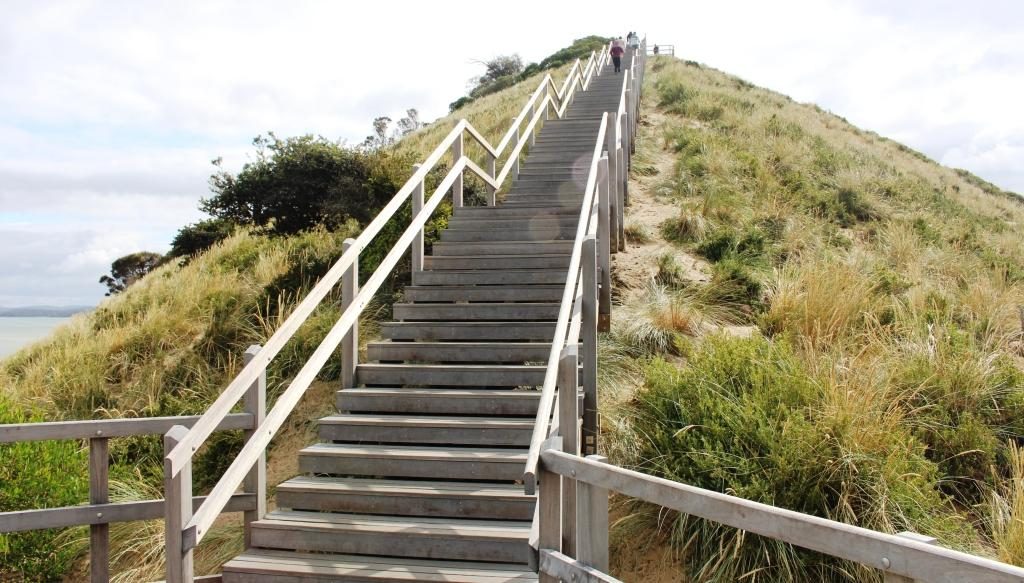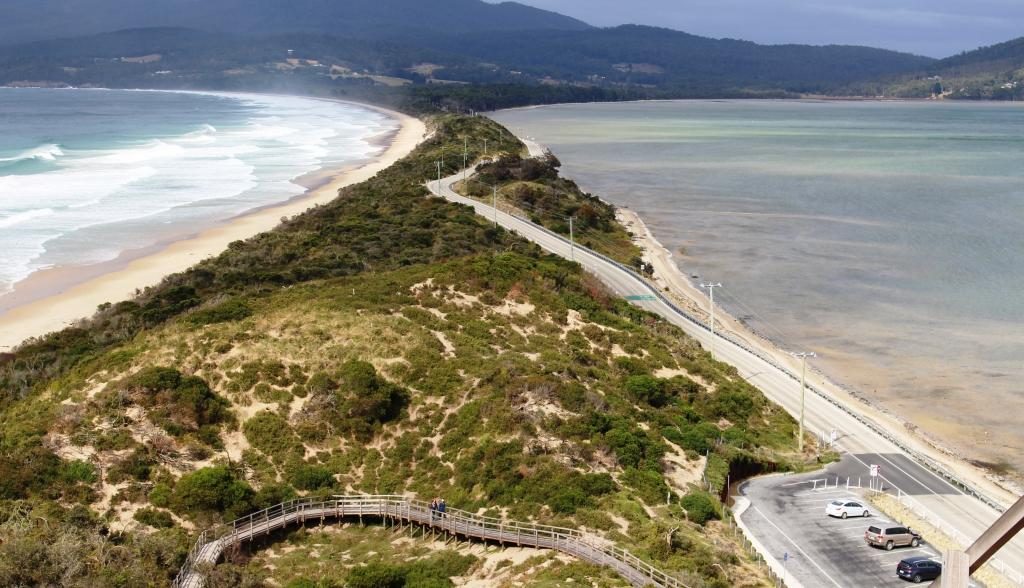 Like most places where mountains meet the sea there is spectacular scenery, particularly at the southern tip around the Cape Bruny Lighthouse and at Adventure Bay to the south east.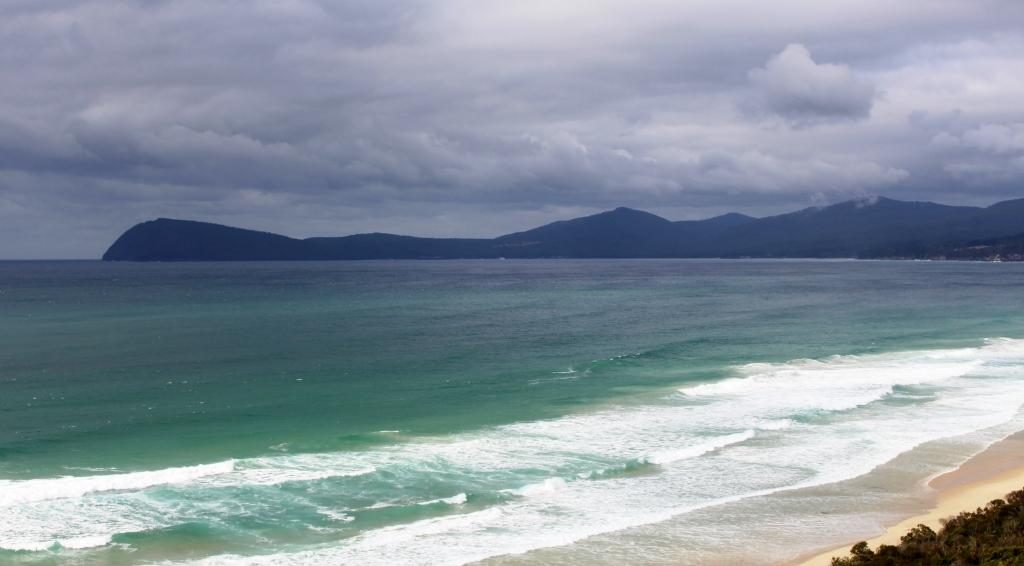 You get to the Lighthouse and its scenery under your own steam on a typical national park road with a very rough section inside the lighthouse grounds. Excellent scenery along the road with plenty of places to pull over and look.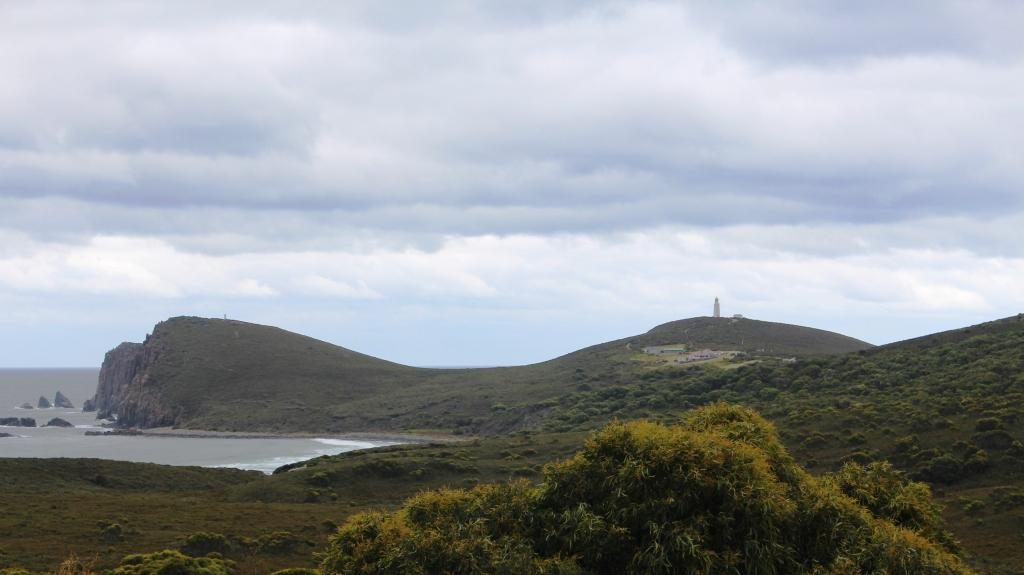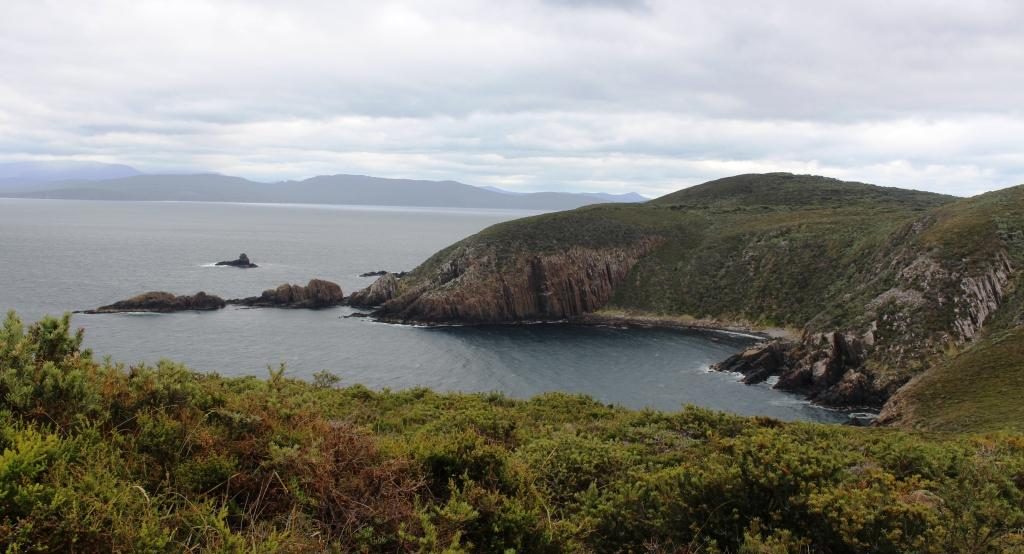 I didn't get to see the interior of the lighthouse or climb to its observation deck. It was fully booked to bus tour groups. But I was able to walk to the original and now unused lighthouse and enjoy the magnificent views of the coast. A new automatic lighthouse has been built on an adjoining headland, to the east.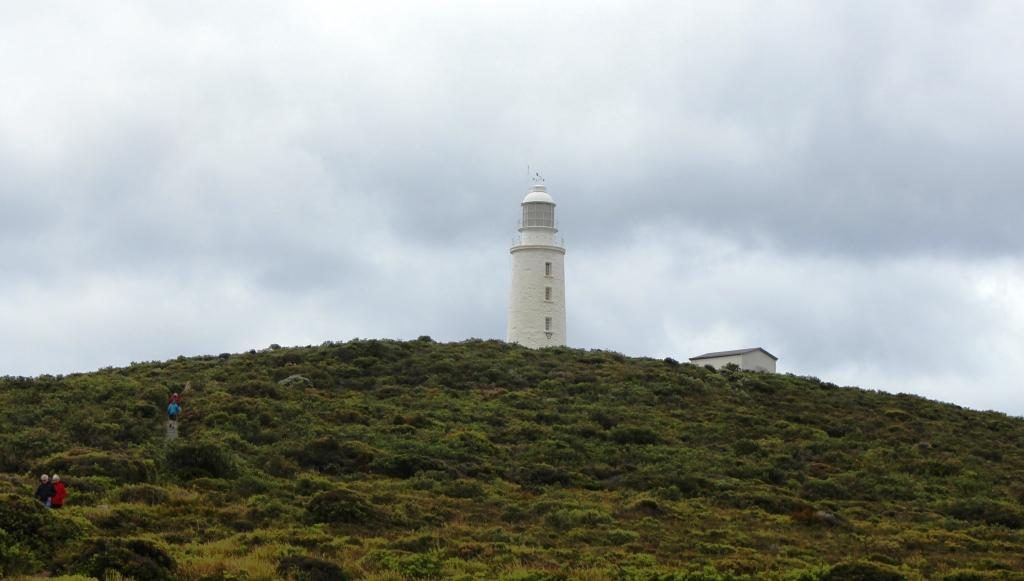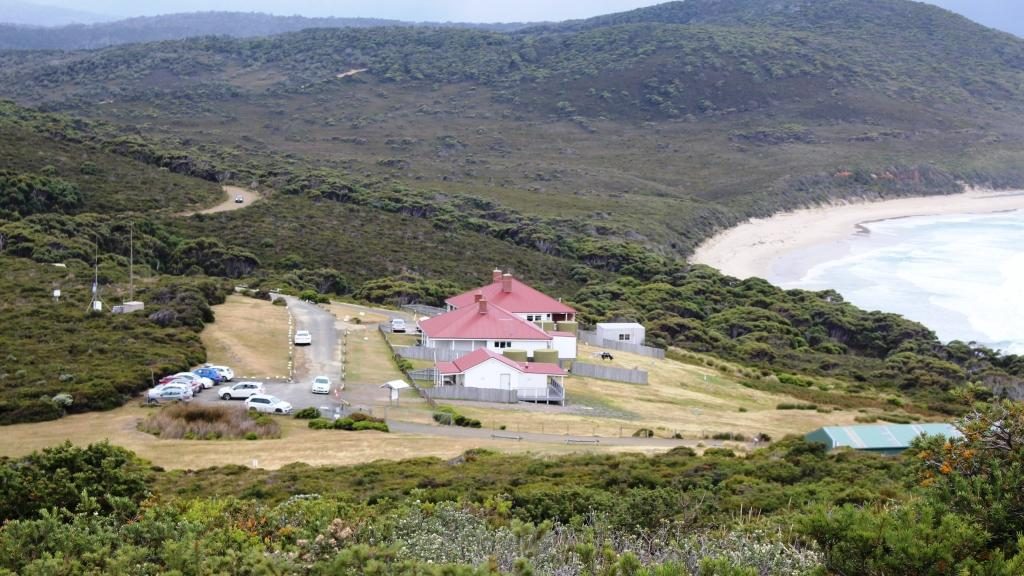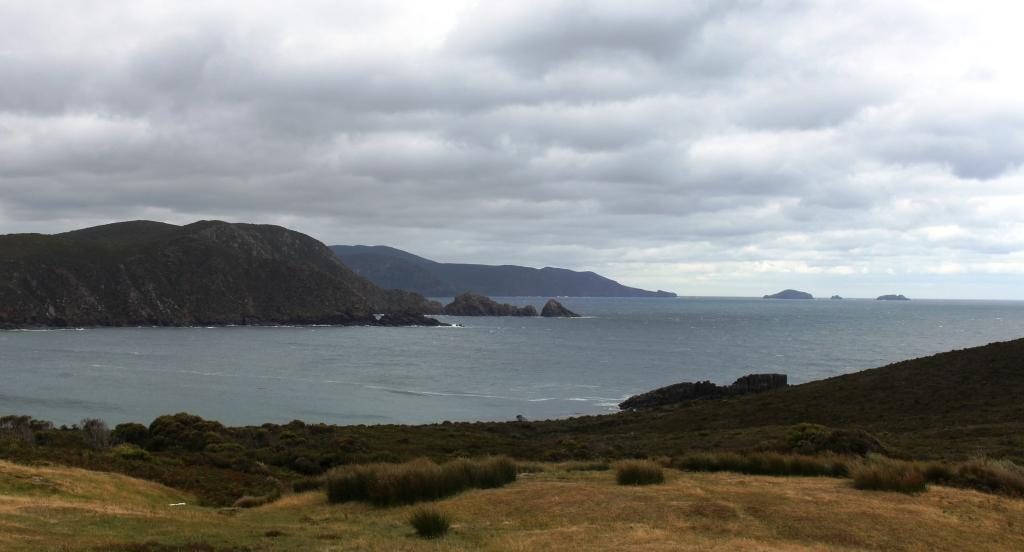 Adventure Bay is reached by a drive of 40 km, if you choose the best road. You head back to the southern end of The Neck and then turn south for about 10 km.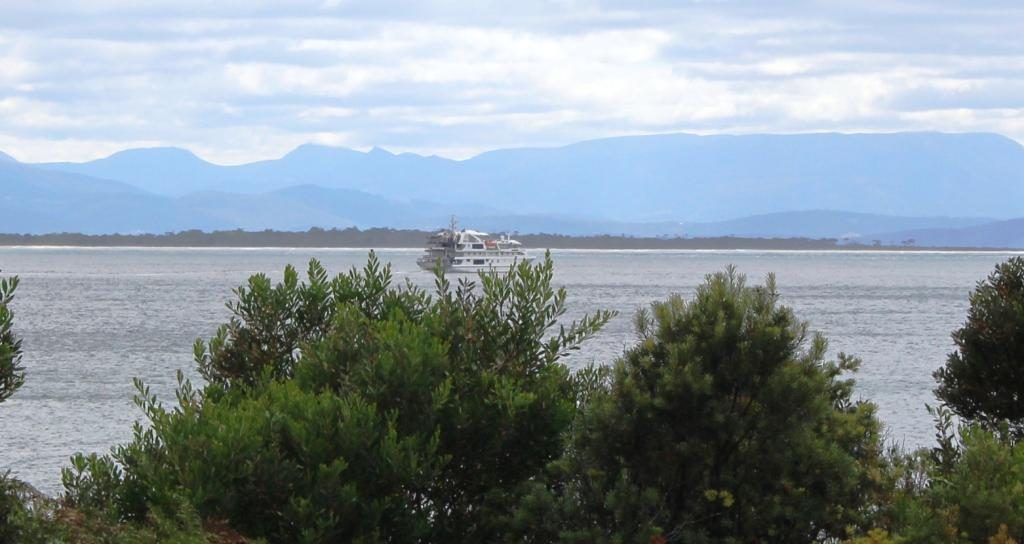 Pennicott Wilderness Journeys have a base at the end of the road where they will put you into a small boat to show the wonders that are out of sight around Grass Point. On that tour you get to see Fluted Cape and Penguin Island plus wild life, including seals. That costs about $125 and you could get cold and wet. But that is adventure for you. On the day of our visit the seas were smooth and there was no rain, so the experience would have been quite pleasant. Bookings are normally necessary. The tours were fully booked several days in advance of our visit.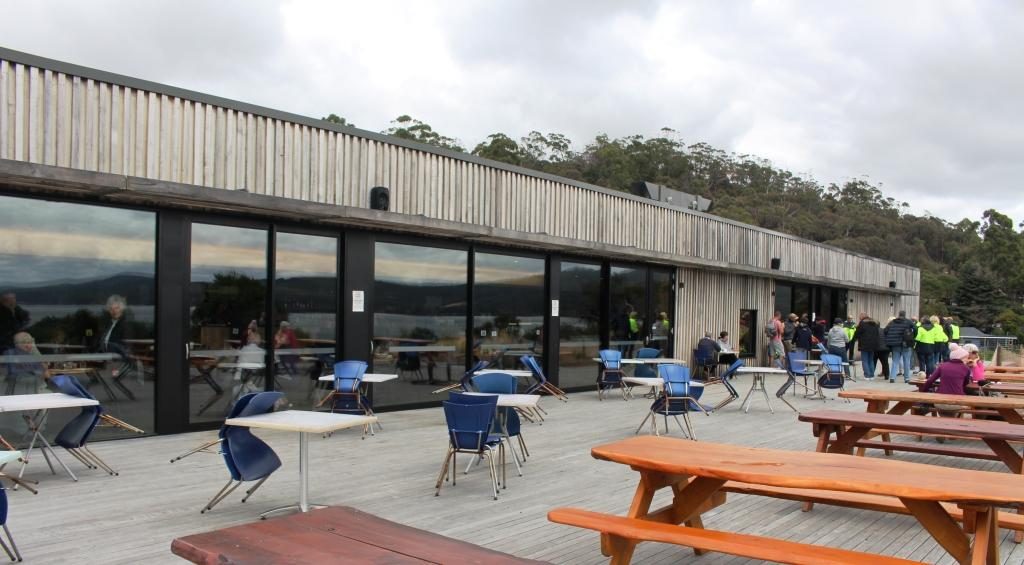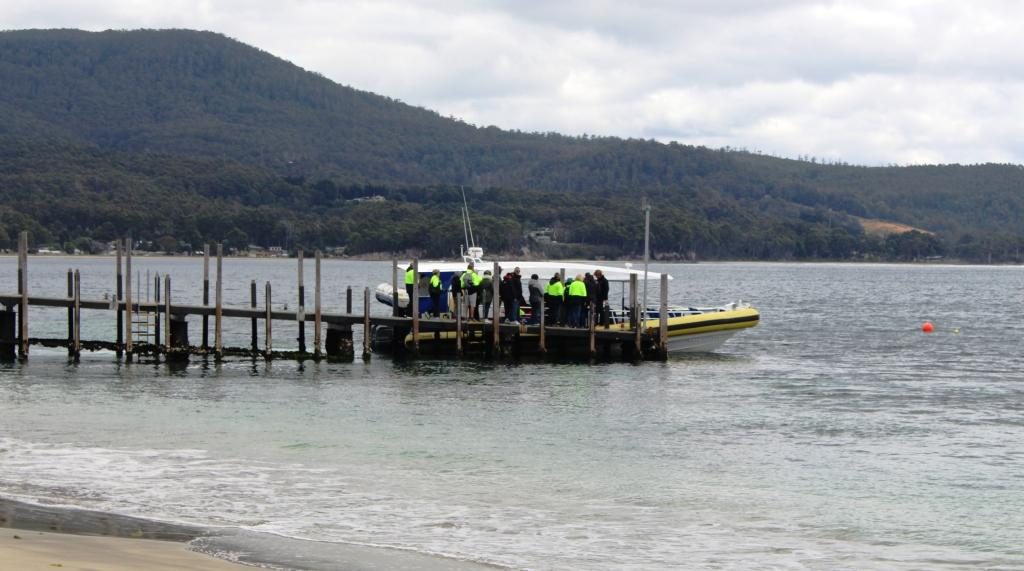 We knew that the tour base has a great restaurant, so it was on our list as a lunch spot. The building is on the back of a sand dune. The restaurant overlooks a broad deck and has a view to the north east over Adventure Bay. We were not disappointing with our choices from the extensive menu. See below.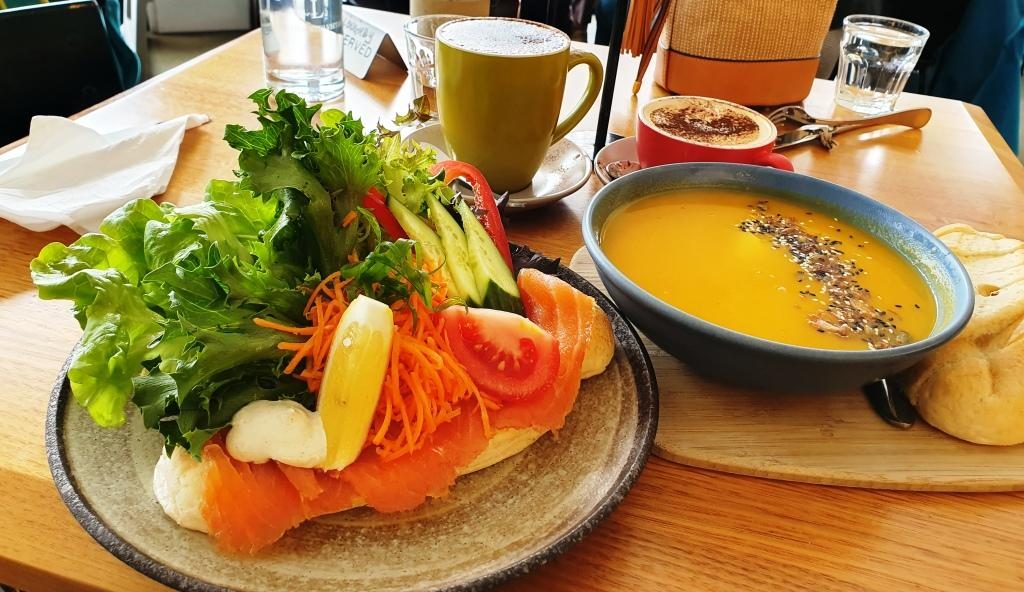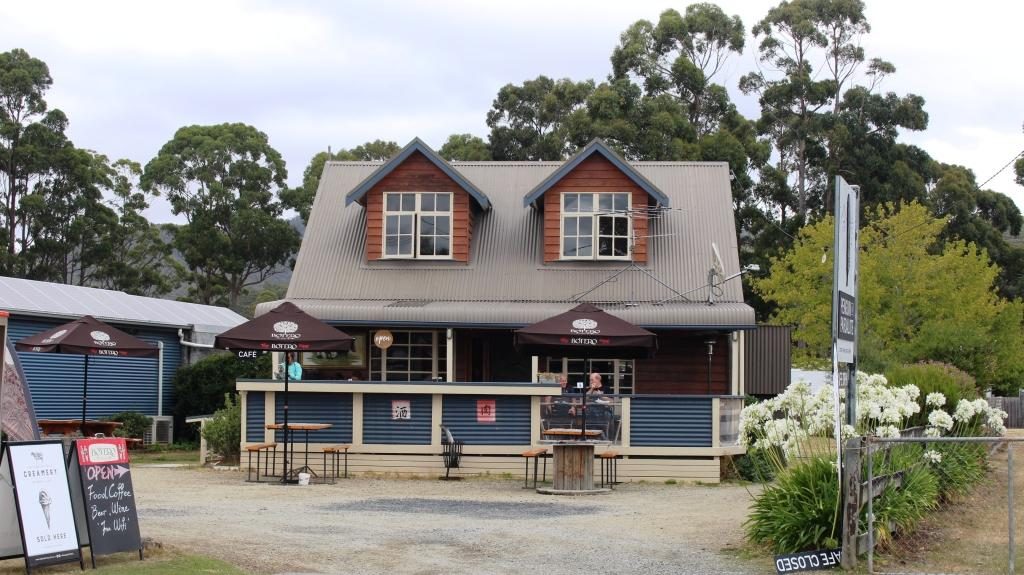 That part of the island has historical significance in that Captain James Cook landed there during his third exploration in 1777. A monument has been erected at the landing site. Also former Captain, but by then Governor William Bligh, visited and planted some of the first fruit trees to be grown in Tasmania.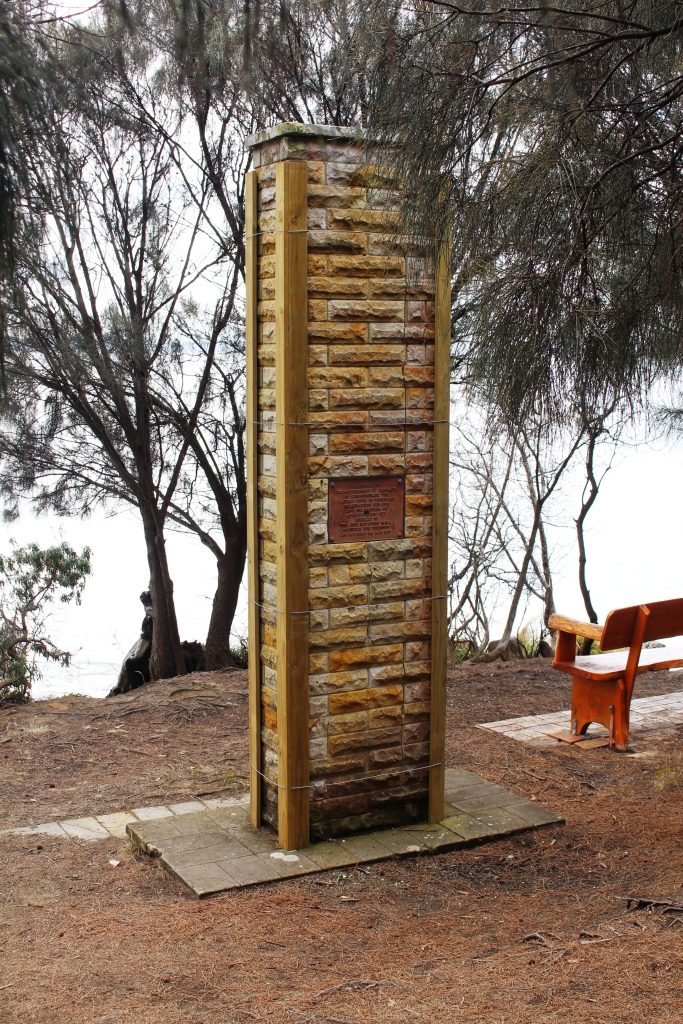 Antoine Raymond Joseph de Bruni, chevalier d'Entrecasteaux (1737 – 1793) was a French mariner who explored part of the east coast of Australia in 1792, including this part of Tasmania, during his search for the missing exploration party of La Perouse. The channel between Bruny Island and the Tasmanian main land is named after him and the island clearly took its name from a misspelled portion of his name. The d'Entrecasteaux Channel is pronounced "Doncastro", or something similar.
The previous day, near Cockle Creek, we had seen a sign marking the place where
d'Entrecasteaux came ashore for water in a sheltered cove. A fresh water stream runs nearby.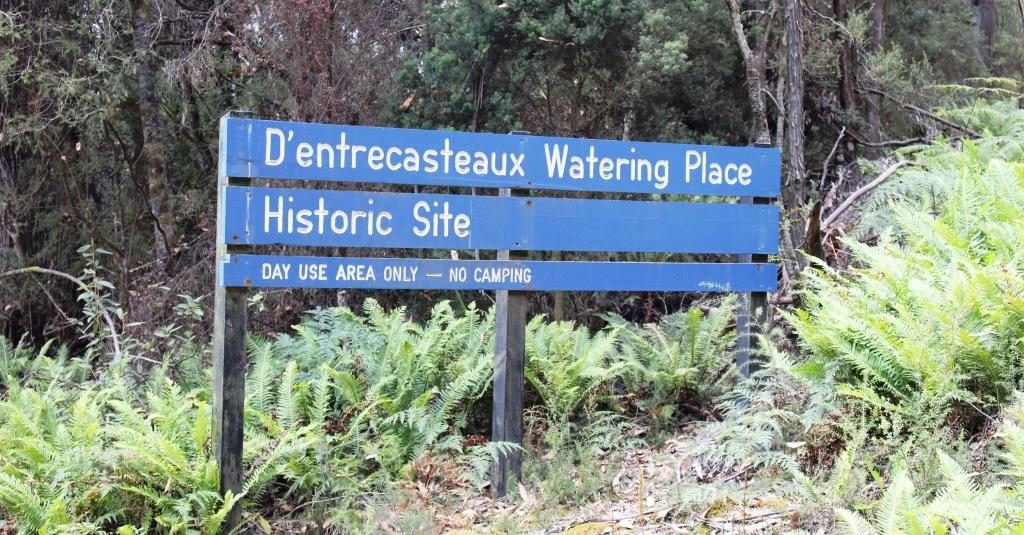 On the drive down to Cape Bruny we had passed through Aloonah, the "capital" of Bruny Island and drove back through the town again on the way back, as the turn to Adventure Bay is about a further 5 km to the north. So, as our return drive to the ferry took is within 5 km of Aloonah, we decided to drive back to take a closer look at this small town.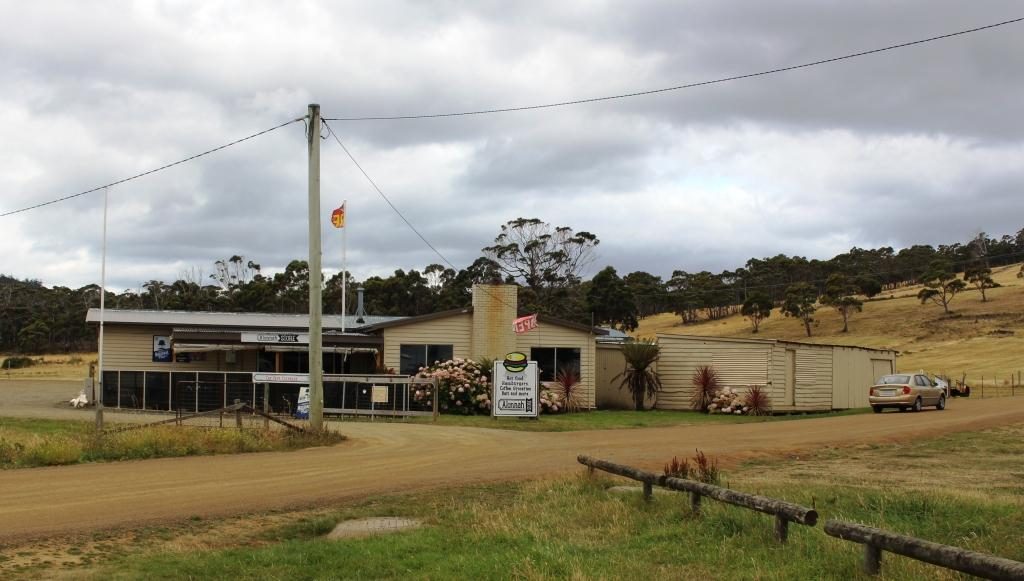 I walked over to the shore line to photograph the island's only hotel. As I looked, prior to taking the photo, I saw a couple who I thought looked like neighbors from our days at Murrumba Downs, but then thought probably not! But as I walked back to the car they were walking right in front of me as they returned to their tour bus from their lunch stop. Absolutely no doubt now!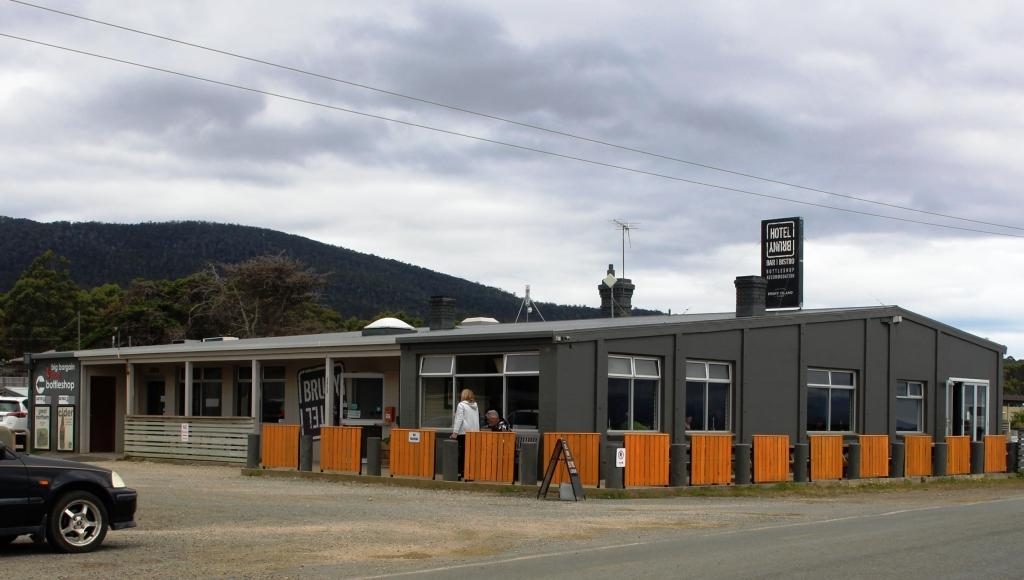 They told us that they had seen us in the street at Geeveston the day before, as we walked past where they were having lunch. They planned to intercept us on our return but we stopped for lunch further down the street. It truly is a small world.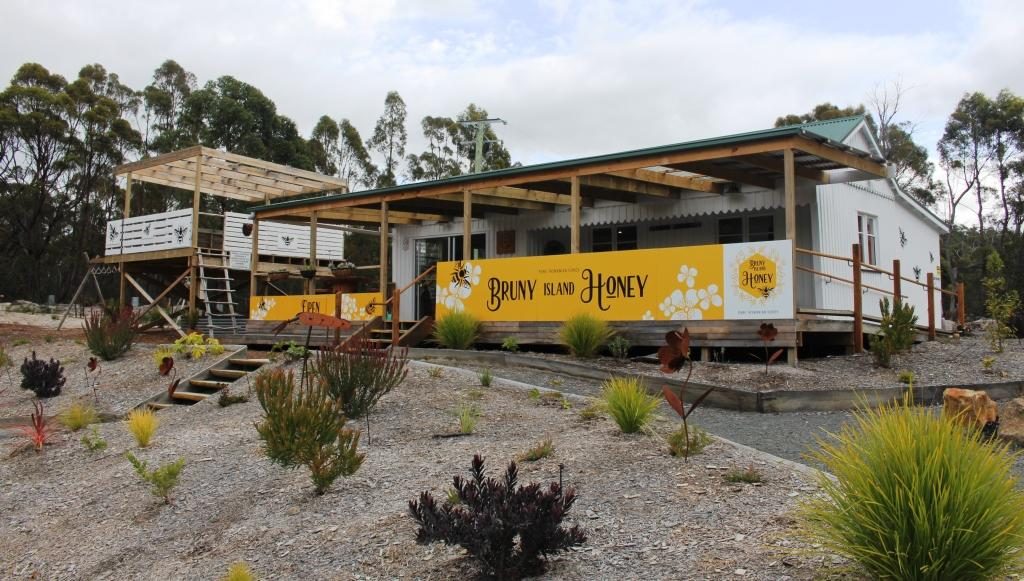 The other tourist attractions on Bruny Island are man made and while legitimate activities for Tasmania, lack authenticity because they have so obviously been put there to be tourist attractions. Things like an oyster shop well away from the sea, a honey shop without a bee box in sight and a place selling cheese with only two types available for tasting and a clear emphasis on selling on line.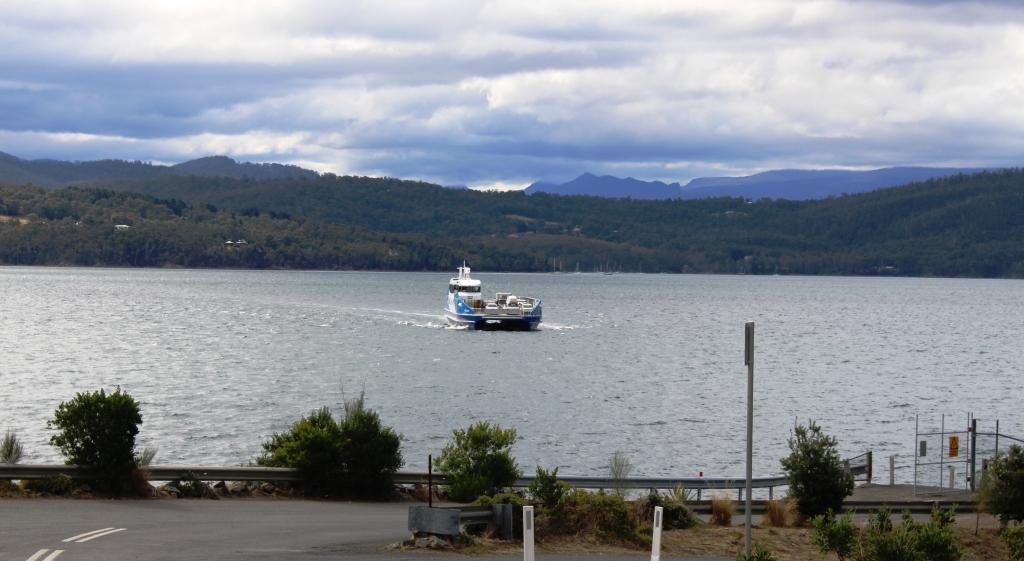 But the visit made for a pleasant day. The roads are narrow and winding but mostly sealed. Gravel roads, of which there are a few, are mostly well maintained and smoother often than the sealed roads. The worst were within the grounds of the lighthouse.
Most tourist activities are to the south of the ferry landing. The largest settlement is Dennes Point in the extreme north. This town is reached by a good gravel road that provides sweeping views of the ocean and bays on both sides of the island. It is well worth the effort, if you have time
Visitors with more time would find a lot more to see and do on the island. There are lots of walks to suit all levels of ability in the most scenic parts of the island.
In summary, we are glad that we visited Bruny, but much was not as I expected. And after calling at a whiskey outlet (enquiring for a friend), I will never again complain of cellar door prices for wine.