Note: A video covering the material in this post can be found at the foot of this blog post.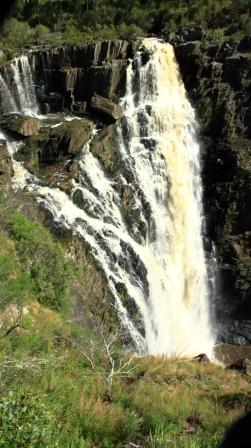 On 23rd November 2021 I lost both my eldest brother, Ivan, and my brother-in-law Colin, my only sister Aileen's husband. Colin passed in the morning, Ivan in the early evening. Ivan was in the northern suburbs of Newcastle and Colin at Moe in Victoria's West Gippsland region. There was no connection in their deaths, just one of life's coincidences.
Covid-19 was at its high point, with borders closed in some states but not in others. We could have travelled to NSW, possibly to Victoria, but we would not have been permitted back into Queensland. We faced a real travel ban. So we had to provide our condolences and the support that we so much wanted to give by phone call, email and text message. We decided that as soon as possible after borders opened, we would travel south to visit grieving relatives and graves.
The opportunity came in March. With borders open and three vaccinations completed we headed south on 12th March, just four days after what would have been Ivan's 88th birthday celebration.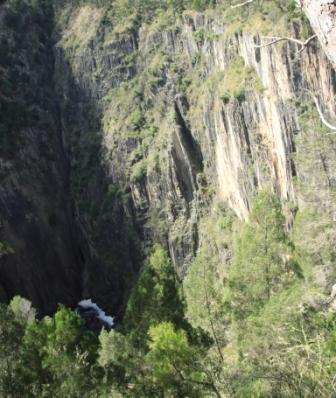 Our intention had been to first spend a couple of days with friends in Ballina, but they had been evacuated a few days before due to flooding of the Richmond River, which had closed the Pacific Highway from Ballina to south of Grafton. Their home was not inundated, and they returned to it after a couple of days, but a visit was not practical so soon after the floods, so we opted for the New England Highway.
Our first family call was to Marjorie, my sister-in-law, who requires constant care and who had gone into respite care in a retirement home in Bulahdelah, which is located about an hour north of her home in Newcastle. You will possible have read of Bulahdelah in the pages of these blogs. It is the town near which I spent the first 15 years of my life and where I met Ruth, my wife of almost 60 years. Ruth, of course, has been part of all the travels covered by the mobilesheathers.com blogs.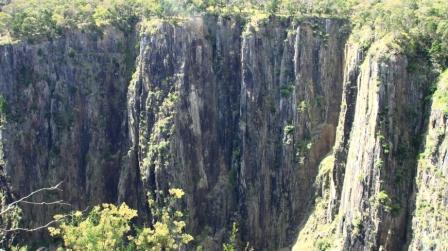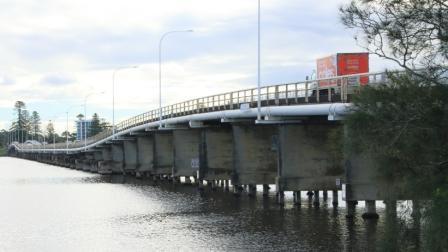 We spent the first night in Armidale. On day two we drove south to Uralla and there turned to join the Oxley Highway at Walcha, to reach the coast again. When we travel for almost any reason we are touring and taking in sights and points of interest along the way. We had been hoping for some early Autumn colours in the roadside trees so were a bit disappointed by the lack of colour, but the area had not progressed far into Autumn but it was very green from recent rain.
But just east of Walcha the Apsley Falls were at their thundering best. On our previous visit, back in our caravanning days, the drought was it its height and there was not even a trickle of water on the falls, just a pool of brackish water at the bottom. Viewing facilities at the falls are excellent. Ruth was able to make her way to the main viewing deck and was able to see as much as I could. There are some good walks at the falls, but time did not permit. We had appointments to keep.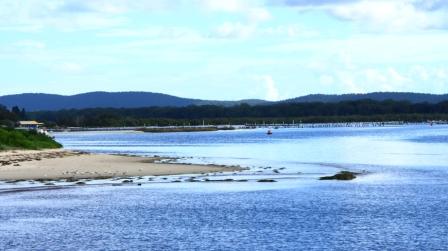 We paused for lunch at Wauchope and made it to our motel at Forster, at the mouth of Wallace Lake, in good time. Time to fit in a walk! So, with camera in hand, I set off for the bridge that spans the lake at a narrow point between Forster and neighbouring Tuncurry. The bridge is about one kilometre long with a hump on each end to allow boats to pass underneath.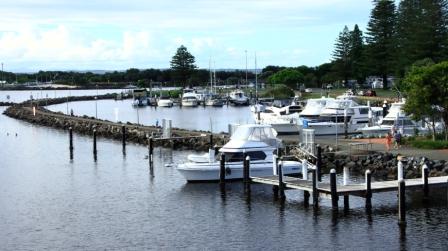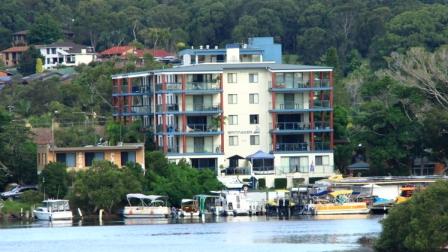 An area south of Forster, Tiona, was a favourite holiday destination during my childhood, as it offered a range of options for my fishing loving Father. There were two ways of getting there from where we lived back then. If we came via Tuncurry the car and trailer (containing our camping equipment) would be loaded onto a small punt which was pulled through the meandering channel to the other side. Now the sand bars that shaped the channel carry the pylon foundations that support the bridge.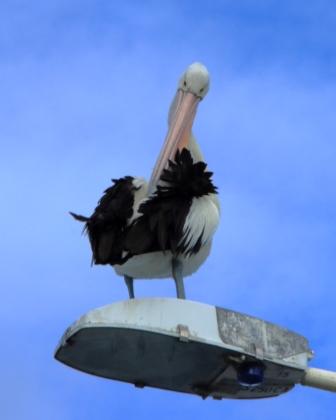 The bridge provides a scenic vantage point for both towns, Wallace Lake, and the entry to the lake from the ocean. Ever watchful for sea birds I noticed an Eastern Osprey making long sweeps over the lake in search of dinner, or perhaps a late lunch. After several failed attempts, it landed on a bridge street light and remained on its perch as I walked past taking photos of it. A call at the ocean beach and it was time to return to the motel for dinner.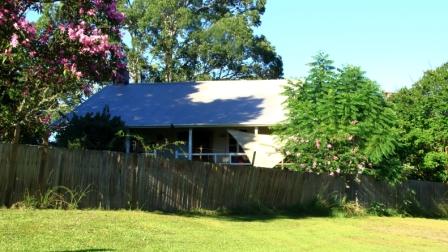 The easiest route from Forster to our next call at the retirement home at Bulahdelah was to fallow the Pacific Highway but a more interesting way was to leave the highway south of Coollongolook and followed The Wootton Way to where it re-joins the highway just north of Bulahdelah. This detour took us past a school that I attended for a couple of years during primary school and past the property on which I and my family lived for about 5 years prior to moving to Victoria when I was 15.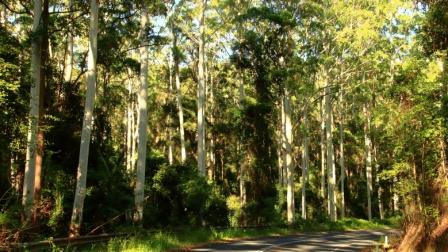 The school is now a community centre and the town much smaller than it was 70 plus years ago. The road is sealed as, for a time, it was the Pacific Highway. Further on we drove through magnificent stands of white-trunked trees, typical of the area. Further on we came to the property where our house stood near the road. The house was moved shortly after we vacated. New owners built further back on the property, behind the tree line and have operated a farm stay business for many years.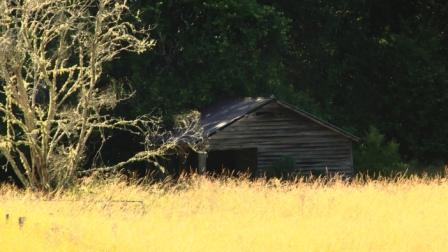 We arrived at the nursing home in good time next morning to complete the Covid safety procedure before visiting sister-in-law Marjorie. We found her in good spirits despite having been told a few days previously that the nursing home was to close thus causing uncertainty about her future. We stayed for morning coffee and lunch before making our way further south. Happily, Marjorie's future accommodation arrangements were settled a few days later when her two daughters completed arrangements for her to take up residence on the top floor of a facility near Lake Macquarie in Newcastle, where she will have views of the lake as well as, we hope, good care.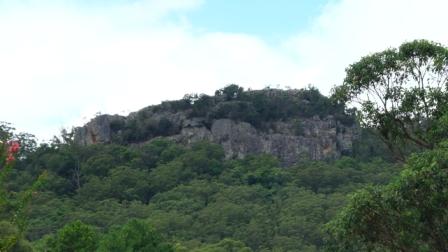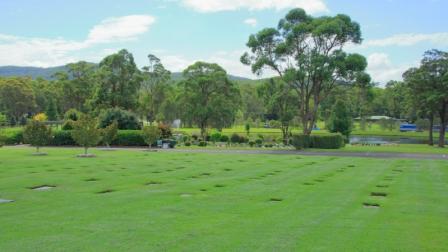 We stayed two nights at Warners Bay, our motel overlooking the northern end of Lake Macquarie. Ivan is buried at Lake Macquarie Memorial Park at Ryhope, just a few hundred metres off the Pacific Motorway, south of Newcastle. A very convenient location for paying our respects during future trips south.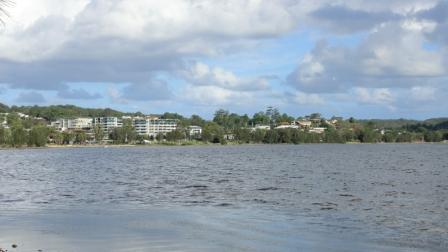 We met Ivan's two daughters with their respective spouses at the park. They showed us to the grave site, already almost covered with grass. The plaques are under way and should be in place when next we call. The grave is in a pleasant area on the side of a gently sloping hillside. The entire garden area appears to be well kept and will continue to be so. We left the cemetery and drove to the sports club in Toronto where we lingered over coffee with nieces and nephews that we rarely see.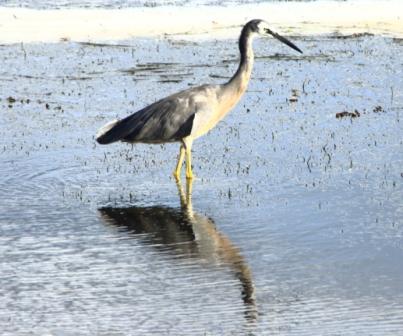 The afternoon was fine and sunny so we parked, and I took a walk on the path provided between Warners Bay and Speirs Point. It is not always possible to keep up my walking schedule when we are travelling, so such opportunities are not to be missed. As a bonus there were birds to photograph, including a White-necked Heron, a first sighting for me.
Next morning, Tuesday, we took the short drive to the home of Ruth's elders sister Judy and her husband Alan, at West Wallsend. Judy has mobility problems but maintains a positive attitude which is most demonstrated by her determination to keep travelling. So over lunch we discussed, as well as family, travel plans and experiences. Visit over, we headed for Sydney.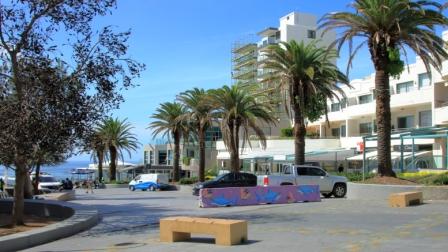 We were to have spent two nights with our daughter Briony at her Erskinville home, but she had come down with a non-Covid virus that we did not want to catch. A quick change of arrangements took us to the Travelodge at Bankstown, a bit of an experience as it is also the Bankstown Sports Club. Temporary club membership was bestowed upon us so that we could use the facilities of the club.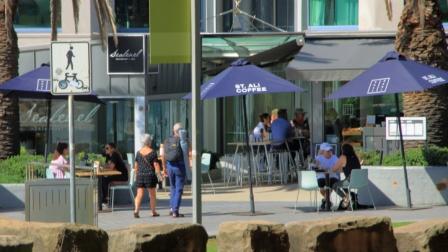 On our second night with Briony we had planned to meet Ruth's youngest sister Dorothy (Dot) for dinner. So, a quad became a threesome at the NEM Riverwood Vietnamese restaurant, for good food and a good old family catch up.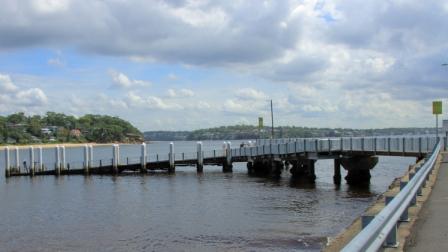 To fill in the intervening day we revisited old stamping grounds from the first period of joint residence in Sydney during the time of my appointment to East Coast Transport at Botany. We started with morning coffee at Cronulla, right on the water on a lovely sunny morning. We then drove past Miranda Fair, where we used to do our shopping and stopped for a look at our former residence at 4 Tulong Place, Kirrawee. This house was built on top a couple of huge boulders, with views over the Royal National Park. Every time I see this house, I wish that we still lived there.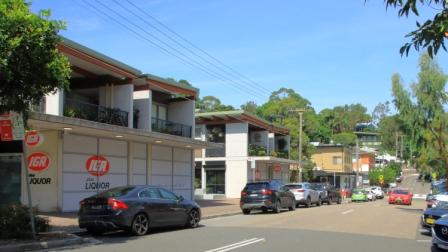 Next, we drove into the Royal National Park to the town of Bundeena on the southern shore of Port Hacking. This was to have been our lunch location but, after a largish morning coffee we were just not ready for more food. After looking around Bundeena we returned to the road through the park that leads to its southern coast entrance at Otford. At this point you will find one of the best scenic lookouts in Sydney. Otford lookout has an elevated viewing platform, heaps of parking space, a kiosk and views over the coast and from Sea Cliff Bridge to Port Kembla. We had a snack there before driving back through Stanwell Tops and Waterfall to Bankstown and dinner.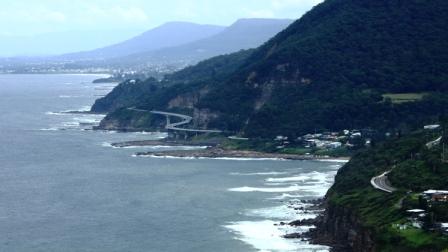 The following morning, we left Sydney early and drove to Bowral in the Southern Highlands of NSW, to call on Ruth's youngest brother Wallace and his wife Ginny. Wallace is in advanced stages of a degenerative disease (similar to Parkinson's disease) so our visits are relatively short. We joined them for lunch and family news. These calls are always sad and happy events because you never know if each one will be the last.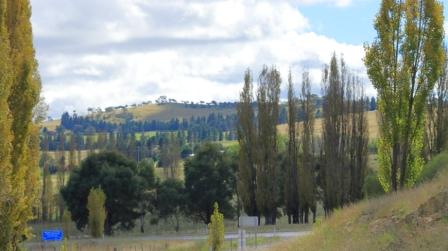 Our destination for the night was Canberra. We were joined for breakfast next morning by grandson Jeremy who now works in the National Capital. The remainder of the day was spent driving via the Monaro Highway to its junction with the Princes Highway at Cann River. Then the run through the East Gippsland mountains and Orbost brought us to Lakes Entrance for the night.
There is always bird life at Lake Entrance, so the long lens got some use that evening and again on my walk next morning. Swans and Pelicans predominate, but there are many others. After leaving Lakes Entrance we detoured to Metung for morning coffee, lunched in Traralgon and arrived at our accommodation in Trafalgar in time to unpack and go out to find some dinner.