Note: A video covering the material in this post can be found at the foot of this blog post.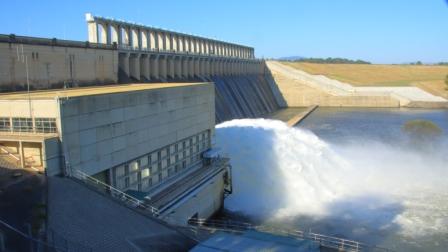 We left Phillip Island amid showers sweeping across Westernport Bay and the adjoining coastal plains. Our route lead along the South Gippsland Highway, Monash Freeway, skirting around the city to reach the Tullamarine Freeway and finally to the Hume Highway. We were headed to Bright to see if Autumn had yet reached the area, famous for its Autumn colours.
We only took necessary breaks, arriving in Bright in the late afternoon. Our motel backed onto lawns that run down to the path that runs along Ovens River. We look our afternoon tea to the lawn and were joined by some Parrots.
The Liquid Amber trees were turning nicely but the Poplars and other deciduous trees had only just started to put on their show.
We left town next morning via Yackandandah, a nearby town also known for its colours, but it seemed to be running later than Bright.
We were bound for Hume Dam on the Murray River to see what it looked when when full. Excess water was being released to a huge roar, in sufficient quantities to fill the river down stream to the top of its banks. When we came through there on our way home from Tasmania two years ago the water level was well below the spillway and further up stream, cattle were grazing on river flats that had been exposed for years but now are inundated by the water in the dam.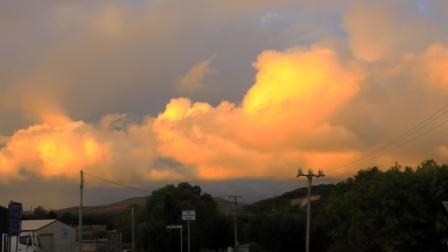 We made our way to the Hume Highway and continued on to Goulburn for the night.
Heavy rain was forecast for the recently flooded North Coast of NSW so we decided to cross the Blue Mountains and make our way home inland. But first we wanted to see the recently overflowing Warragamba Dam. Warragamba was not far off our track.
We thought that refreshments might be available at the visitor center at the dam, but no such luck. We did our tourist thing under increasingly threatening skies. Walking back from an observation point I took a wrong turn and came upon a pair of Rosellas. Then a Wonga Pigeon landed on stairs behind me, the first of this type that I had seen.
Soon, after departing the dam, the sky opened and stayed that way. As we approached the Great Western Highway, traffic congestion was becoming an issue so a quick change of plans and we were on the highway heading west. With the rain still falling and a stop becoming necessary, we found a convergent McDonald's and stopped for lunch. Back on the road the rain continued to well on the way to Mudgee, our next overnight stop.
Mudgee is a week end town, thriving on visitors from the coast, so they have their weekend on Monday and Tuesday. We were there on Monday night and found most restaurants were closed. The Chinese restaurant at the Gold Club was recommended. They served excellent food in huge quantities. We only eat half the food served to us but were able to take the leftovers. They were sufficient for dinner the following night.
Next morning, we had passed through Gulgong and Dunedoo when a phone call from last night's motel advised that I had left my binoculars behind. So, after returning the necessary 85 kilometres, we had coffee and started again. We left Mudgee, this time by the Ulan Road, then through Binnaway so saw some new country. Lunch at Coonabarabran and a stop for the last night at Moree to rest and deal with leftover Chinese food.
The plan was to do the last leg of the journey via the Gore Highway to Toowoomba and then the Warrego Highway to Brisbane but as we left Goondiwindi a roadside sign advised that the Gore Highway was closed. So on through continuing rain with a stop at Warwick and arrived home mid afternoon.
Eighteen days and a bit over 5,000 kilometres with average weather and escalating petrol prices. But we saw all of the relatives that were planned and respects paid at two grave sites. In all a successful trip.